Big Bend to Namekagon River Visitor Center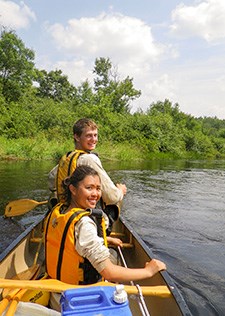 Scenic Meandering
Trip Details
Distance: 7.7 Miles
Duration: 2-4 Hours (+/- depending on paddling pace and river conditions)
Difficulty: Easy - Some riffles with occasional rock gardens
Location: Middle Namekagon River - Near Earl Park Landing
Map 2: Hayward Landing to Trego
River Description
The first half of this journey wanders lazily through low-banked woods. With a sandy-bottom, this is an excellent area to swim. Passing Earl Park Landing the river banks become steeper making for one of the more scenic and popular stretches of river for tubers, paddlers, and anglers. There are occasional rock gardens to navigate and one stretch of quicker current as the river approaches Highway 63.
Afterwards, the river widens out in a low marshland area, becoming braided with islands. Stay in the main channel to avoid scrapping! Great blue herons, bald eagles, and osprey are frequently sighted.
Be sure to stop by the Namekagon River Visitor Center, located across Highway 63 from Lakeside Road Landing, after your paddle.
River Level Considerations
This stretch of the middle Namekagon is generally floatable throughout the season. In particularly low rainfall there may be instances of scraping bottom that may require some walking - especially on the stretch after Highway 63 near the islands. Go to the river conditions page for more.
Along the Way
4 campsites (3 are group sites)

1 cluster of walk-in group sites with picnic tables at Earl Park Landing.

1 river landing - Earl Park Landing

Potable water at Earl Park Landing
Multi-Day Extension
This trip can be extended by starting further up the Namekagon River. The river from Stinnett Landing down to Big Bend Landing has more frequent areas of rapids and riffles. This stretch is also much closer to Highway 63, which in many cases is audible. Below the Namekagon River Visitor Center, the five mile long Trego Flowage begins. The slow current in the flowage takes you past a more developed landscape with motorboat traffic.
Return to Ranger Recommended Paddles
Last updated: April 24, 2022