Active Trails Paddle Events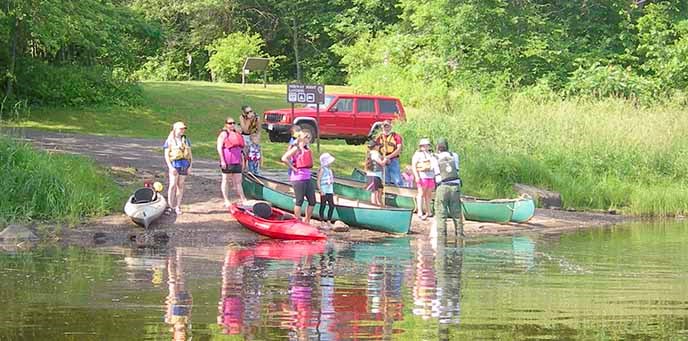 These paddling programs promote healthy lifestyles and are designed to get you moving! National Park Foundation funding provides the equipment to get you paddling including kayaks, lifejackets, and paddles.
Paddle with a Ranger Programs
Eight programs are offered in 2016 for participants 18 or older. There is a cost of $45 per person and space is limited. Registration is required through the
St. Croix River Association website
or call (715) 483-3300.
June 5: Sunday Morning Coffee (St. Croix Osceola Landing to Log House Landing)
June 17: River of Time (Namekagon Cable Wayside Landing to Thompson Bridge Landing)
June 20: Summer Soltice (St. Croix Minnesota Interstate State Park to Osceola Landing)
July 22: Cecelia's Journey (St. Croix CCC Bridge Landing to Riverside Landing)
July 24: Ghost Town of the Namekagon (Namekagon Earl Park Landing to Lakeside Road Landing)
August 14: River Musing (St. Croix Fox Landing to Soderbeck Landing)
August 21: Watercolors and River History (Namekagon McDowell Landing to Namekagon Trail Landing)
September 22: Autumnal Artwork (St. Croix Wisconsin Interstate State Park to Osceola Landing)
Lakeland Family Resource Center Paddles
These paddling events are for residents of Washburn County, Wisconsin. Register through the Lakeland Family Resource Center by calling
(715) 635-4669
.
June 13: Kayaking 101 (Leisure Lake)
June 21: Foster Families Paddle & Yoga (Namekagon Big Bend Landing to Earl Park Landing)
July 21: Kayaking 102 (Namekagon Big Bend Landing to Earl Park Landing)
September 17: Family Nature Day Paddle (Namekagon Big Bend Landing to Earl Park Landing)
This project was made possible in part by a grant from the National Park Foundation through the generous support of The Coca-Cola Company and the Coca-Cola Foundation.
Last updated: March 9, 2017