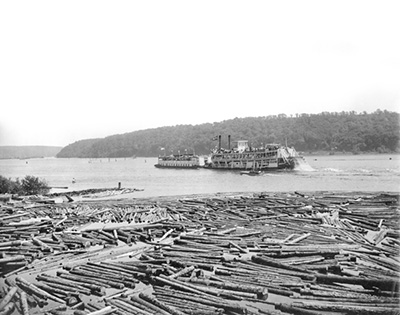 News Release Date:
June 12, 2015
Contact: Julie Galonska, 715-483-2270
Learn about the underwater archeology of the St. Croix River 
ST. CROIX FALLS, Wisconsin: This summer the St. Croix River is the site of an archeological investigation by the National Park Service's Submerged Resources Center and Midwest Archeological Center. These archeologists are searching for the remains of structures built during the late 1800s to create a shipping channel in the river.
Interested in learning more about these forgotten artifacts and the effort to rediscover them? The St. Croix National Scenic Riverway is hosting a program on Thursday, June 25, at the Stillwater Public Library. Jessica Keller, an archeologist with the Submerged Resources Center, and Jean Schaeppi-Anderson, Riverway historian, will discuss the history of these 19th century water control structures and their 21st century remains.
Ruins of a Forgotten Highway
Thursday, June 25, 6:30 - 7:30 pm at the Stillwater Public Library.
The St. Croix wasn't always as free-flowing and quiet as it is today! In the age before cars and paved roads, the St. Croix was a bustling commercial highway filled with steamboats, barges, canoes, bateaus, logs, and rafts moving people and goods up-and-down the river and into the larger marketplace of the region.
To accommodate the traffic, the U.S. Army Corps of Engineers systematically "improved" the river for commerce by building over three miles of wing dams, closing dams, jetties, and shore revetments to insure a three-foot shipping channel for steamboat navigation. These water control structures were later forgotten as the river became better known for its scenery and recreation in the 20th century. The dams deteriorated, becoming overgrown and silted-in as the river's current claimed them as part of its ecosystem.
An archeologist and an historian from the National Park Service will discuss how the St. Croix was modified to accommodate the heavy commercial traffic during the 1800s, why the changes were forgotten, and what remains of the structures today.
The presentation is free and open to the public. It will take place at the Stillwater Public Library at 224 Third Street North, in the Margaret Rivers Room.
For additional information, call (715) 483-2274.
The St. Croix National Scenic Riverway, a unit of the National Park System, was established by the Wild and Scenic Rivers Act in 1968. It is one of a group of eight rivers in the country which first received this recognition. For 255 miles, the St. Croix and its tributary, the Namekagon, flow through some of the most scenic and least developed country in the Upper Midwest.
Learn more at www.nps.gov/sacn