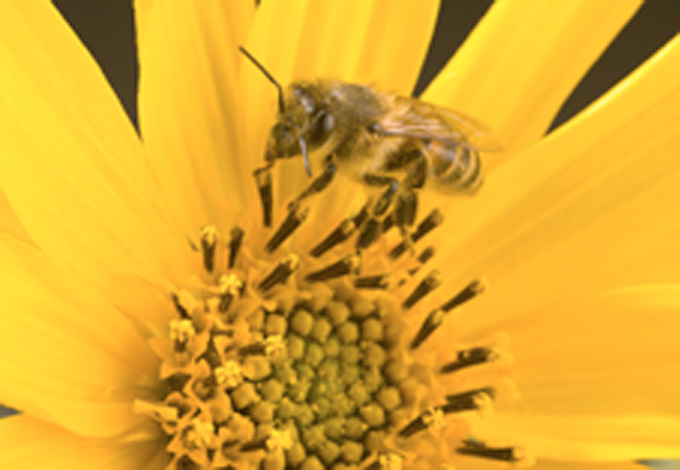 News Release Date:
April 1, 2014
Contact: Julie Galonska, 715-483-2270
Presentation on Survival of Honey Bee Colonies on April 12
ST. CROIX FALLS, Wisconsin: Interested in learning more about the St. Croix Valley's national park? Join the National Park Service and the St. Croix River Association in exploring the heritage, natural wonders, and communities of the St. Croix National Scenic Riverway during this year's Riverway Speaker Series. The series concludes on Saturday, April 12, 2014, with a program about the survival of honey bee colonies.
Saturday, April 12, 10:00 a.m.
Agricultural Land Use and the Survival of Honey Bee Colonies
Presented by Matthew Smart, University of Minnesota Bee Lab
The Upper Midwest is the summer home of thousands of commercial honey bee colonies maintained for honey production and colony growth, many of which will be used for pollination of California almonds the following spring.Changing agricultural land use patterns across the region raise serious questions regarding the continuing ability of these landscapes to support large populations of honey bee colonies and the future sustainability of the beekeeping industry and our bee-pollinated food supply.
The presentation is free and open to the public. It will take place at the St. Croix River Association office, 230 South Washington Street, Unit 1, in St. Croix Falls, Wisconsin (next to the St. Croix Falls Public Library).
Space is limited and reservations strongly encouraged.RSVPs will be honored until 10:00 a.m.To reserve a space, call (715) 483-3300 or email info@scramail.com.
The St. Croix National Scenic Riverway, a unit of the National Park System, was established by the Wild and Scenic Rivers Act in 1968. It is one of a group of eight rivers in the country which first received this recognition.For 255 miles, the St. Croix and its tributary, the Namekagon, flow through some of the most scenic and least developed country in the Upper Midwest.
Learn more at www.nps.gov/sacn.
The St. Croix River Association is a nonprofit organization that protects, restores and celebrates the St. Croix River and its watershed.It partners with others so that the St. Croix is a place where
·Waters run free and clean
·Habitat remains plentiful to sustain our unique and diverse flora and fauna
·People have access to our National Park and the park flourishes
·Towns throughout the basin thrive and people celebrate the river
Learn more at www.stcroixriverassociation.org