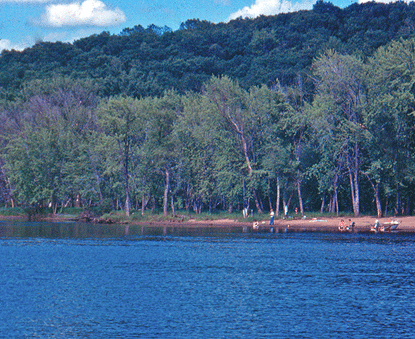 News Release Date:
June 2, 2011
Contact: Dale Cox, 715-483-2272
 NPS Offers Weekly Evening Programs of the Stillwater Islands Area
Join a National Park Ranger for an evening program on the St. Croix River this summer!
The St. Croix National Scenic Riverway, a unit of the National Park System, is offering weekly programs via pontoon boat on the St. Croix River every Wednesday this summer.The presentations will explore the historic and fragile Stillwater Islands stretch of the river, an area laced with long, narrow, tree-covered sand islands and lined by steep limestone bluffs.
There is no charge for these programs, but they are limited to 14 people each and advance reservations are required. Reservations may be made by calling the St. Croix River Visitor Center at (715) 483-2274.
In June and July, the programs begin at 7:30 p.m.In August, they begin at 6:30 p.m.Each program is 1 ½ hours in length.
Life jackets will be provided and must be worn during this program.
The programs will begin at the Boomsite Wayside on Highway 95 north of downtown Stillwater.
The St. Croix National Scenic Riverway was established by the Wild and Scenic Rivers Act in 1968.It is one of a group of eight rivers in the country that first received this recognition.For 255 miles, the St. Croix River and its tributary, the Namekagon, flow through some of the most scenic and least developed country in the Upper Midwest.

For additional information on the Riverway call (715) 483-2274.