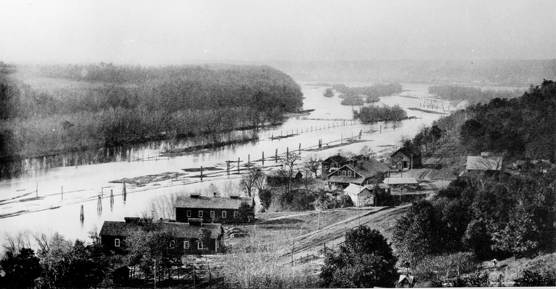 News Release Date:
June 9, 2011
Contact: Dale Cox, 715-483-2272
St. Croix Boomsite Day – Saturday, June 25
Discover the history of the Stillwater Boomsite on Saturday, June 25 from noon to 3:00 p.m.
The Boomsite, in use between 1856 and 1914, was the center for storing and sorting logs that had been floated down the St. Croix River.Come learn about boom operations during the logging era through storytelling and hands-on activities with logging tools. The natural features and scenic beauty of the area will be explored through hikes and the eyes of artists, including Stillwater artist Kami Polzin.
The schedule for presentations during the day is:
Noon:Robert Goodman, historian and author, The Last Rafter:David Bronson and the St. Croix Lumber Industry
1:00 p.m.:Dwight Wilcox, re-enactor, Martin Mower of the St. Croix Boom Company
2:00 p.m.:Don Mitchell, author and musician, Shimmering Blue Line:The St. Croix River in Pen, Brush and Music
In addition to the presentations, there will be discovery stations on the following topics:the Boomsite cave and geology, storytelling, hands-on logging activities, the history of boom operations, and the site's natural features.The stations will be ongoing from noon to 3:00 p.m.
The Boomsite is located just north of Stillwater, Minnesota, on Hwy 95.
The event is free and open to the public.It is hosted by the St. Croix National Scenic Riverway, William O'Brien State Park, and the Washington County Historical Society.
For additional information, call (715) 483-2274.