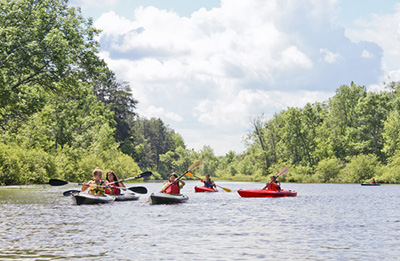 News Release Date:
May 26, 2015
Contact: Jill Medland, 715-483-2272
ST. CROIX FALLS, Wisconsin: To improve understanding of the visitor experience on the Namekagon River, the National Park Service is conducting a river use study during the summer of the 2015. The Namekagon in part of the St. Croix National Scenic Riverway, a national park and one of America's first wild and scenic rivers.
Beginning Memorial Day weekend, researchers from Southern Illinois University will count the number of river users and the number and types of vessels on the Namekagon. Visitors' perceptions of conditions will be measured by short interviews about their activities and length of visit, why they chose the Namekagon River, changes since their last visit, and reactions to the number of other visitors they encountered.
At the end of the season, the results from the 2015 study will be compared to findings from research conducted in 1999 and 2002 on the Namekagon River. The final report will assist the NPS in evaluating what visitors experience and whether these experiences are consistent with current management plans. 

For additional information about the Namekagon River and the St. Croix National Scenic Riverway, call or visit the Namekagon River Visitor Center, located on Highway 63, one mile east of Highway 53 in Trego, Wisconsin. Open 9:00 am to 5:00 pm daily. Free. (715) 635-8346, ext. 429.
The St. Croix National Scenic Riverway, a unit of the National Park System, was established by the Wild and Scenic Rivers Act in 1968. It is one of a group of eight rivers in the country which first received this recognition. For 255 miles, the St. Croix and its tributary, the Namekagon, flow through some of the most scenic and least developed country in the Upper Midwest.