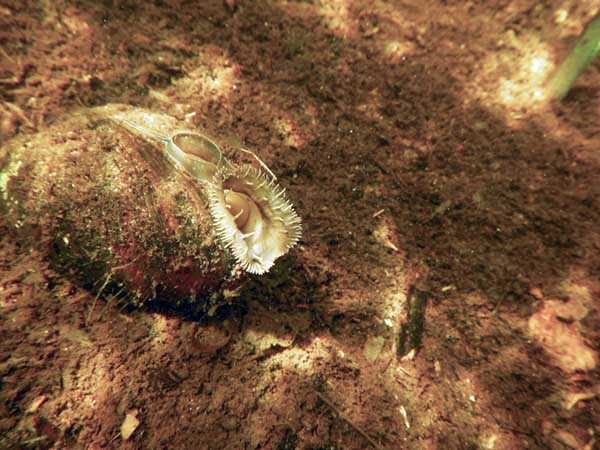 News Release Date:
February 3, 2017
Contact: Julie Galonska, 715-483-2270
ST. CROIX FALLS, Wisconsin: Although looking at mussels might seem about as exciting as watching rocks, they are actually amazing animals with many secrets yet to be learned. Native freshwater mussels, sometimes called clams, continue to surprise and astonish those who study them. Join the National Park Service and the St. Croix River Association for a presentation on the lives of these remarkable creatures.    
Saturday, February 18 at 10:00 am
The Surprising Lives of our Native Mussels
Presented by Mark Hove, Research Biologist, University of Minnesota
Freshwater mussels spend most of their lives filtering gallons of water through their bodies to strain out food. When it comes to producing offspring, mussels transform into tricksters, luring fish to supply nutrients and transportation for their young. Almost two-thirds of all mussel species in the United States are threatened, endangered, or already extinct. The St. Croix National Scenic Riverway is a refuge for many of these rare and surprising animals. Come explore little-visited reaches of our rivers through photographs, videos, and lively stories that reveal the secret lives of mussels.  
Mark Hove is a research biologist for the University of Minnesota and Macalester College. His work includes identifying host fish species for freshwater mussels, often working with local high school students.  
The presentation is free and open to the public. It will take place at the St. Croix River Association office at 230 S. Washington Street, Unit 1, next to the public library, in St. Croix Falls, Wisconsin.   
Space is limited and reservations strongly encouraged. RSVPs will be honored until 10:00 am. To reserve a space, go to
www.stcroixriverassociation.org
or call (715) 483-3300.  
This presentation is part of the 2017 Riverway Speaker Series, an effort to raise awareness of the heritage, natural wonders, and communities of the St. Croix National Scenic Riverway – a national park that includes the St. Croix and Namekagon rivers. Save the date for these upcoming presentations:  
Saturday, March 18 at 10:00 am (St. Croix Falls, WI)
Hidden Thunder: Rock Art of the Upper Midwest
Presented by Geri Schrab, Award-winning Artist  
Thursday, April 6 at 7:00 pm (Stillwater, MN)
Conservation of Minnesota's Orchids and Rare Plants
Presented by Dr. David Remucal, Curator of Endangered Plants, Minnesota Landscape Arboretum  
The St. Croix National Scenic Riverway, a unit of the National Park System, was established by the Wild and Scenic Rivers Act in 1968. It is one of a group of eight rivers in the country which first received this recognition. For over 200 miles, the St. Croix and its tributary, the Namekagon, flow through some of the most scenic and least developed country in the Upper Midwest.
Learn more at
www.nps.gov/sacn
The St. Croix River Association is a nonprofit organization that protects, restores and celebrates the St. Croix River and its watershed. It partners with others so that the St. Croix is a place where
Waters run free and clean
Habitat remains plentiful to sustain our unique and diverse flora and fauna
People have access to our National Park and the park flourishes
Towns throughout the basin thrive and people celebrate the river
Learn more at
www.stcroixriverassociation.org