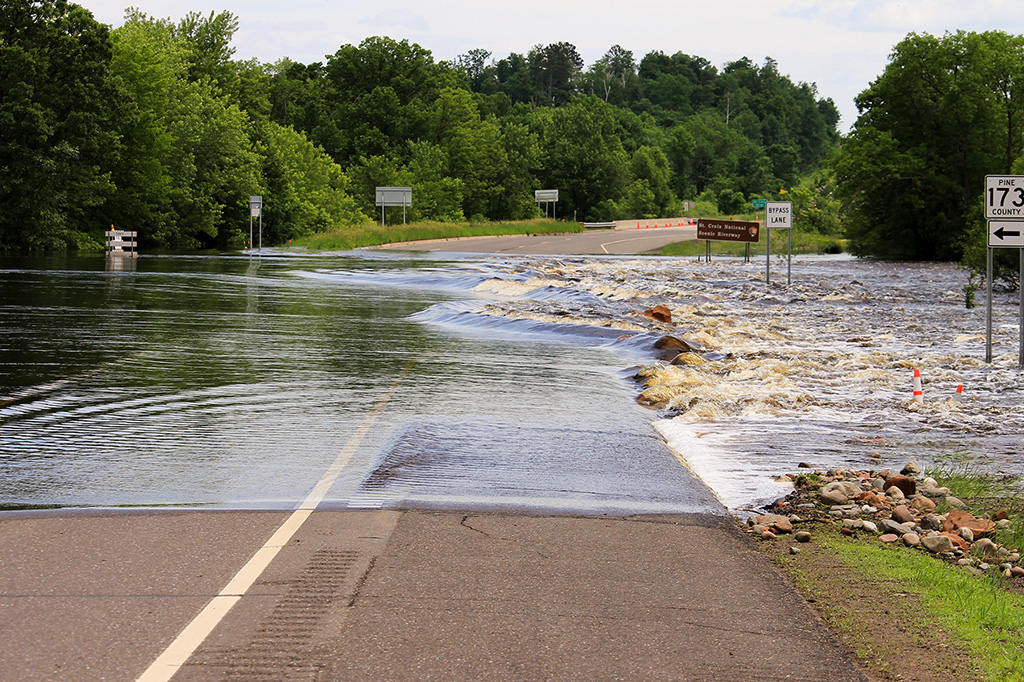 News Release Date:
June 22, 2018
Contact: Jean Van Tatenhove, 715-483-2278
ST. CROIX FALLS, Wisconsin: To protect public safety, many river landings along the St. Croix River are closed due to flood conditions.
Heavy rains in north central Minnesota and northern Wisconsin last weekend and the failure of the Radigan Dam on the Tamarack River on June 18 have caused high water conditions. Rivers have overflowed their banks and are running high and fast.
National Park Service (NPS) landings along the St. Croix River north of Stillwater are currently closed. NPS staff will continue to assess conditions, and will open landings when they can be safely accessed by the public. All NPS landings are open on the Namekagon River.
For additional information on river conditions and closures, visit the Riverway website at www.nps.gov/sacn or the Riverway Facebook page at https://www.facebook.com/StCroixNSR/. NPS staff is available at the St. Croix River Visitor Center, 715-483-2274, or the Namekagon River Visitor Center, 715-635-8346. Visitor centers are open 9:00 am to 5:00 pm daily.
High water safety should be followed when getting on the rivers at open landings.
All river users are strongly encouraged to wear a life jacket. Life jackets are required for children under 13.

Know your skill level before starting a trip. Be prepared for high and swift water and strong currents.

Watch out for debris. The current may be pushing debris down the river and the current may push you into debris.

Campsites may be dangerous to access due to the higher water. The normal access may be underwater. The current may make it difficult for you to pull up to shore and exit/enter your vessel.

Watch out for low bridges. Portage around them.

Bring extra dry clothes in a dry bag.

Let someone know your float plan. Notify that person when you get on and off the river.

Avoid walking or driving through flood waters. "Turn Around Don't Drown®!" Just six inches of moving water can knock you down and two feet of water can sweep your vehicle away.
www.nps.gov/sacn
The St. Croix National Scenic Riverway, a unit of the National Park System, was established by the Wild and Scenic Rivers Act in 1968. It is one of a group of eight rivers in the country which first received this recognition. For over 200 miles, the St. Croix and its tributary, the Namekagon, flow through some of the most scenic and least developed country in the Upper Midwest.
Learn more at
www.nps.gov/sacn
.