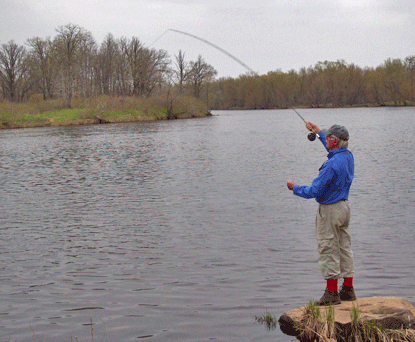 News Release Date:
June 2, 2011
Contact: Dale Cox, 715-483-2272
 Free Fly Fishing Workshops, June 11 and 12
Free fly fishing workshops will be held the weekend of June 11 and 12 at William O'Brien and Minnesota Interstate State Parks.The workshops are led by Park Ranger John Weinberg and volunteers from the Federation of Fly Fishers.
Whether you're a beginner or an experienced angler, this is a unique opportunity to learn about basic and advanced casting techniques, as well as watershed ecology and conservation. Participants will become familiar with equipment used in freshwater fly fishing and will observe demonstrations of tying imitations of native aquatic insects, including nymphs, dry flies, and streamers.The workshops will also provide information on how stream conservation, watershed health, and a fly fishing ethic can affect the water quality of the St. Croix River.
The workshops are scheduled for the following dates:
Saturday, June 11, 9:00 a.m. to 3:00 p.m. at William O'Brien State Park
Entrance to William O'Brien State Park is free on this date as part of the Minnesota State Parks annual Open House!
Sunday, June 12, 9:00 a.m. to 3:00 p.m. at Minnesota Interstate State Park
There is no charge for the workshop, but an annual Minnesota state park vehicle sticker or daily pass is required to enter the park.
During each workshop, the morning session will consist of fundamentals, equipment, and fly tying. The afternoon session will focus on casting demonstrations, with hands-on instruction in small groups.
Equipment will be available for use by workshop participants. These are free programs and no registration is required.Participants should bring lunches and snacks. The workshops are designed for ages 13 and older. They will be canceled if there is severe weather.
For additional information, please call (715) 483-2274