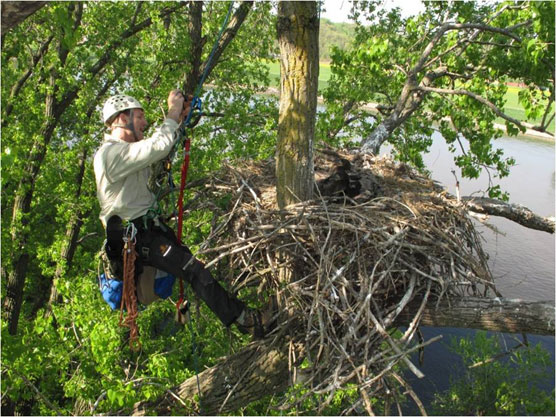 News Release Date:
May 19, 2010
Contact: Bill Route, 715.682.0631 x21
National Park Service (NPS) staff will visit eagle nests along the St. Croix and Namekagon rivers beginning May 24th. The National Park Service is collecting blood and feather samples from recently hatched eagle nestlings to measure contaminants they ingest from their food supply. Eaglets are also fitted with an aluminum leg band so they can be identified if they are ever captured again.
"This is part of a long-term contaminants monitoring program we established in 2006 and are conducting in nine national parks around the Great Lakes region," said Bill Route, coordinator of the NPS's Great Lakes Inventory and Monitoring Network. "We are using fish to monitor contaminants in six of the parks, but we use young-of-the-year eaglets in Mississippi National River and Recreation Area, St. Croix National Scenic Riverway, and Apostle Islands National Lakeshore on Lake Superior," Route said.
"Bald eagles are a very visible and very popular part of a visitor's St. Croix River experience," says Chris Stein, Superintendent of the St. Croix National Scenic Riverway (NSR). "So it's important for us to keep track of how they are doing and to ensure they continue to thrive. This work also helps us better understand the natural systems that we are here to protect, and it helps guide management decisions we might make to achieve that protection."
Bald eagles on the two rivers begin nesting in mid-to-late February, and eggs hatch approximately one month later. Nestlings have to be at least five weeks old to be captured and banded, but no more than nine weeks old, which is when they begin to fledge and leave the nest.
Since 2006, eaglets raised near Lake Superior, including the Apostle Islands National Lakeshore, have exhibited higher concentrations of DDE than eaglets from either the Mississippi NRRA or the St. Croix National Scenic Riverway (NSR). DDE is the primary breakdown product of DDT, the insecticide that was banned in North America in the early 1970s. PCBs, another toxic chemical that was banned in the mid 1970s, have been found at comparatively higher levels in eaglets raised along the Mississippi NRRA and the St. Croix River below St. Croix Falls. Levels are moderately high on Lake Superior, and low in eaglets from the upper St. Croix. The cold, deep, and relatively unproductive water of Lake Superior likely impedes the breakdown of historically high levels of DDE and PCBs, while global sources of these pollutants continue to add to this burden.
Mercury has been highest in eaglets from the upper St. Croix River and lowest in those sampled on the Mississippi NRRA and Lake Superior. Mercury, in its elemental form, is deposited on the landscape from regional and global sources. This elemental mercury is converted to the highly toxic methylmercury by anaerobic bacteria that occur in wetlands. As a result, waterbodies such as the upper St Croix River with high proportions of their water coming from wetlands tend to have greater availability of methylmercury.
The Great Lakes Inventory and Monitoring Network is a National Park Service program that conducts long-term monitoring of important natural resources at nine national parks in Minnesota, Wisconsin, Michigan, and Indiana. The monitoring programs, because of their long-term focus, are ones that the individual parks generally do not have time, staff, or money to do on their own, but they are designed to provide individual park managers with the information they need to make management decisions based on the most up-to-date science. They are also designed to put each park in a regional and national context so they can see how their piece fits into the larger puzzle.
More information can be found online at https://science.nature.nps.gov/im/units/glkn/ or by contacting St. Croix NSR resource management staff at (715) 483-2282.