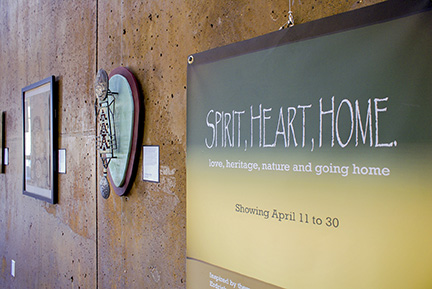 News Release Date:
April 13, 2015
Contact: Dale Cox, 715-483-2272
Inspired by themes of Louise Erdrich's award-winning novel Love Medicine, more than a dozen artists from the St. Croix Valley used photography, painting, ceramics, printmaking, and fiber arts to express their spirits, expose their hearts, and celebrate homes.
A selection of this artwork will be on display at the St. Croix River Visitor Center beginning April 11 as part of ArtReach St. Croix's "The Big Read in the St. Croix Valley." The National Park Service is pleased to host the "Spirit, Heart, Home" exhibition through April 30.
Additional artwork will be on view at the ArtReach Galleries in Stillwater, Minnesota, and the Great River Road Visitor & Learning Center at Freedom Park in Prescott, Wisconsin.
The St. Croix River Visitor Center is located at 401 North Hamilton Street in St. Croix Falls, Wisconsin, and opens daily for the season on Saturday, April 11. Hours of operation are 9:00 am to 5:00 pm daily. Admission is free.
"The Big Read in the St. Croix Valley" is part of The Big Read, a program of the National Endowment for the Arts designed to revitalize the role of literature in American culture and to encourage citizens to read for pleasure and enlightenment. For more information about Big Read events and activities, contact ArtReach St. Croix at (651) 439-1465 or visit www.artreachstcroix.org.
For additional information about the St. Croix River Visitor Center, call (715) 483-2274.
The St. Croix National Scenic Riverway, a unit of the National Park System, was established by the Wild and Scenic Rivers Act in 1968. It is one of a group of eight rivers in the country which first received this recognition. For 255 miles, the St. Croix and its tributary, the Namekagon, flow through some of the most scenic and least developed country in the Upper Midwest. Learn more at www.nps.gov/sacn.
ArtReach St. Croix is a non-profit organization whose mission is to connect the St. Croix Valley community and the arts. ArtReach sponsors community arts events and supports the work of artists and other arts organization, and provides arts leadership within the St. Croix Valley community.