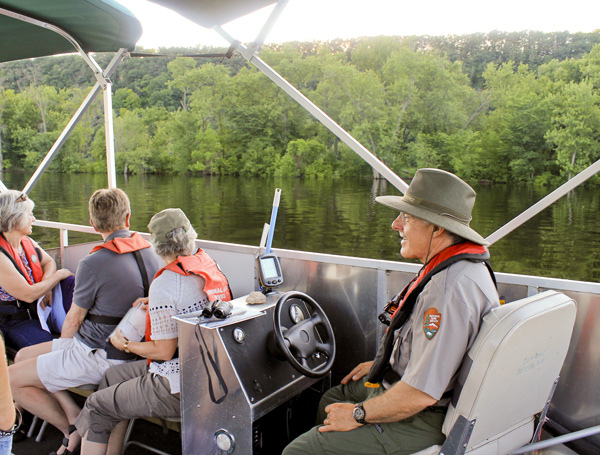 News Release Date:
July 10, 2018
Contact: Jean Van Tatnehove, 715-483-2278
ST. CROIX FALLS, Wisconsin: The National Park Service is taking reservations for free park ranger tours of the St. Croix River, near Stillwater, Minnesota. Reservations are required and can be made by telephone, (715) 483-2275, for Tuesday tours of the Stillwater Islands area beginning at 3:30 pm and again at 6:30 pm. Reservations can also be made for tours of the bird rookery near Stillwater on Sunday mornings at 9:00 am. Tours on Tuesdays last approximately 2 hours, and Sunday tours last approximately 1 hour.


Explore the Boom Site where logs were sorted before being sent to mills. See the Soo Line High Bridge that was constructed in the style of the Eiffel Tower. Limestone bluffs shelter eagle nests and cliff swallows as the river braids around wooded islands. The bird rookery is home to great blue herons, cormorants, and great egrets. Here is reason to celebrate 50 years of wild and scenic river protection.

Tours are open to adults and children who are at least 10 years of age and weigh over 50 pounds. Life jackets are provided. Participants are required to arrive at the Boom Site Historical Marker, on Highway 95, 15 minutes before the tours begin. Parking is limited, but, additional parking is available nearby at the Boom Site Wayside. There is a limit of one tour per person for the summer and seating is limited to 12 per tour. Stillwater Island tours last approximately 2 hours and rookery tours last about 1 hour. Tours are cancelled during severe weather.

The St. Croix National Scenic Riverway, a unit of the National Park System, was established by the Wild and Scenic Rivers Act in 1968. It is one of a group of eight rivers in the country which first received this recognition.  For over 200 miles, the St. Croix and its tributary, the Namekagon, flow through some of the most scenic and least developed country in the Upper Midwest.

For additional information on the Riverway, please visit www.nps.gov/sacn or call (715) 483-2274.