Osceola Landing Rehabilitation Project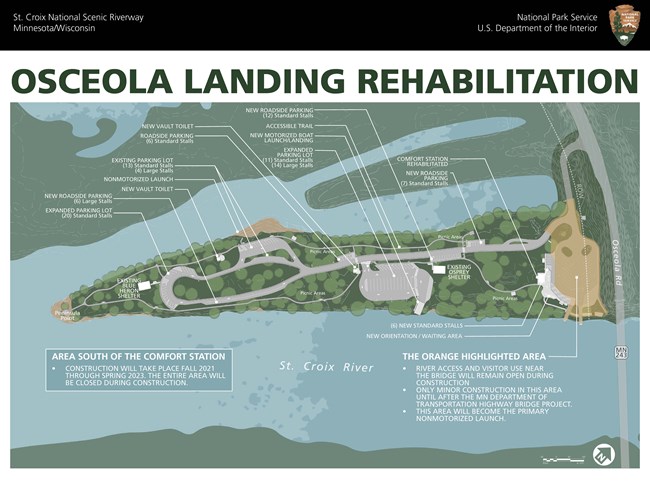 Osceola Landing is the busiest National Park Service landing on the St. Croix River. Well known as the take-out point of the popular day trip from Minnesota or Wisconsin Interstate Park through the Dalles, the landing also provides access for motorized boats and paddlers headed downstream. Additionally, the day use area is a place for picnicking, fishing, walking, and enjoying the beauty of the river.
A project to improve safety, commercial operations, and the day use area at Osceola Landing on the St. Croix River will take place throughout 2022 and into the spring of 2023. The rehabilitation project will
address visitor safety concerns among pedestrians, motorized boaters, and non-motorized boaters;
improve management of commercial operations (landing, launching, staging, loading, and shuttling);
enhance day use activities (fishing, picnicking, walking, etc.);
address shoreline erosion and hazardous trees;
address congestion in parking areas and provide enhanced wayfinding;
update interpretive media and provide a welcoming experience; and
upgrade facilities, such as restrooms and utilities.
The National Park Service will be adding a new launch for motorized boats, so that the launching and landing of motorized and nonmotorized watercraft can be separated. This will ease congestion and address safety issues among pedestrians and vehicles at the river access locations. The project also includes additional parking, a paved walking path, a new orientation/waiting area, new vault toilets, and upgrades to the comfort station and other amenities.
Project Progress and Process:
Fall, 2021:
Minor repair of the existing landings were conducted in October and November 2021.
2022:
Construction will start in April 2022 and continue through 2023.
River access at the existing at the existing launches at Osceola landing will be maintained during construction.
The Day Use Area of Osceola Landing will be closed to the public during the construction. This includes closure of picnic shelters and restrooms. Portable toilets will be available for use.
Parking will be very limited. Visitors not utilizing commercial services are encouraged to see out other river landings and have a backup plan if Osceola Landing is at capacity.
For further information, please call 715-483-2274.
Last updated: March 24, 2022