Osceola Landing Rehabilitation Project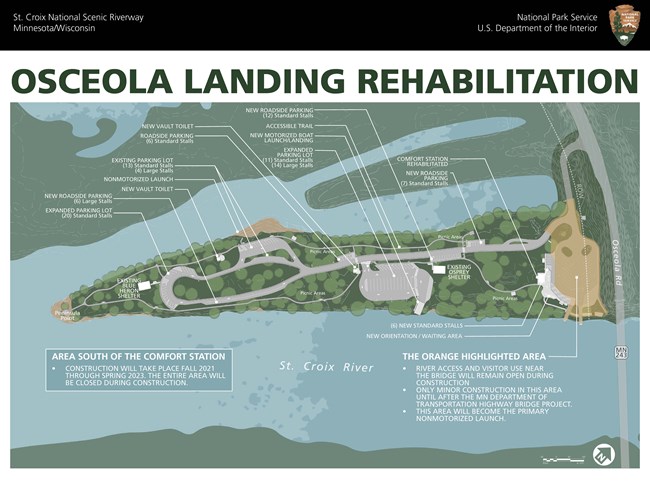 Osceola Landing is the busiest National Park Service landing on the St. Croix River. Well known as the take-out point of the popular day trip from Minnesota or Wisconsin Interstate Park through the Dalles, the landing also provides access for motorized boats and paddlers headed downstream. Additionally, the day use area is a place for picnicking, fishing, walking, and enjoying the beauty of the river.
A project to improve safety, commercial operations, and the day use area at Osceola Landing on the St. Croix River will take place throughout 2022 and into the spring of 2023. The rehabilitation project will
address visitor safety concerns among pedestrians, motorized boaters, and non-motorized boaters;
improve management of commercial operations (landing, launching, staging, loading, and shuttling);
enhance day use activities (fishing, picnicking, walking, etc.);
address shoreline erosion and hazardous trees;
address congestion in parking areas and provide enhanced wayfinding;
update interpretive media and provide a welcoming experience; and
upgrade facilities, such as restrooms and utilities.
The National Park Service will be adding a new launch for motorized boats, so that the launching and landing of motorized and nonmotorized watercraft can be separated. This will ease congestion and address safety issues among pedestrians and vehicles at the river access locations. The project also includes additional parking, a paved walking path, a new orientation/waiting area, new vault toilets, and upgrades to the comfort station and other amenities.
Project Progress and Process:
Fall, 2021:
Minor repairs of the existing landings were conducted in October and November 2021.
2022:
Construction started in April 2022 and will continue through early 2023.
River access at the existing launches at Osceola landing will be maintained during construction.
The Day Use Area of Osceola Landing is closed to the public during the construction. This includes closure of picnic shelters and restrooms. Portable toilets will be available for use.
Parking will be very limited. Visitors not utilizing commercial services are encouraged to seek out other river landings and have a backup plan if Osceola Landing is at capacity.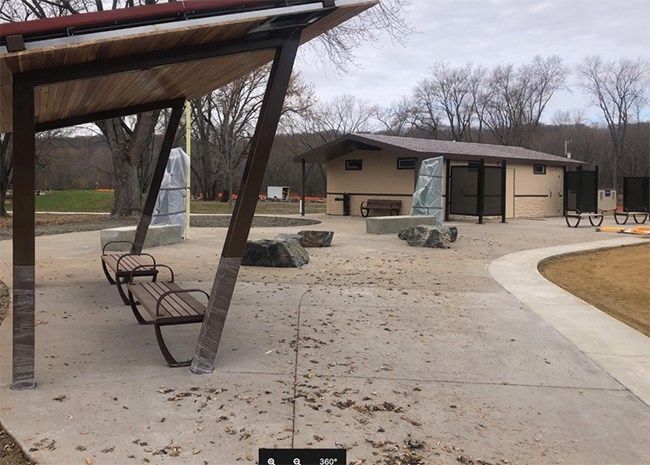 January 2023
The Osceola Landing rehabilitation project has officially paused for the winter. The contractor, Nordic Group, was mobilized at Osceola Landing from April to November 2022 and the rehabilitation project is 87% complete. Updates include:
A new motorized boat launch and parking lot to separate motorized and non-motorized use for improved traffic flow and increased visitor safety

A plaza waiting area with interpretive signage, benches, shade shelter, and an ADA pathway to the existing watercraft landing

Comfort station rehabilitation (new plumbing fixtures, paint, doors, and windows)

Replacement of two vault toilets

ADA trail throughout landing with new interpretive and wayfinding signage

Tree maintenance and tree planting· All site signage has been replaced. A new visitor welcome sign has been added

Drinking fountains have been replaced

Lighting and electrical / plumbing utility improvements have been completed
Remaining final tasks will be completed in the spring/early summer of 2023. As soon as the final tasks have been completed and approved, Osceola Landing will fully open for normal visitor use.

Sustainability has been a key aspect of this project. Brush mattresses were used for riverbank stabilization to minimize erosion without the use of rock. Forty new trees were planted from a variety of species and necessary tree pruning occurred. Roadways and parking lots remained in similar locations to maximize existing infrastructure while improving traffic flow and creating added parking.

Phase two of the project will include a reconstruction of the northern parking lot and river accesses near the Highway 243 Bridge. Phase two will take place after the new Highway 243 Bridge is completed. An exact timeline is yet to be determined.

Thank you for your patience at Osceola Landing throughout this significant project.

For further information, please call 715-483-2274.
July 28, 2023:

The day use area and new motorized boat launch opened. See the News Release for further details.

The picnic shelters are now open. To make reservations, please see the Permits & Reservations page.

Last updated: August 1, 2023