Climate Change
San Antonio Missions National Historical Park is located within an ecosystem of diverse and dynamic habitats for plants and animals. The region's abundant plant life enhances our outdoor experiences, provides vital ecosystem services, and creates food, habitat, and shelter for wildlife. Even on protected lands like San Antonio Missions, these unique resources are threatened by human activities, environmental change, and the threats of the busy urban city.
While the National Park Service monitors this environment to understand park health and to make informed decisions, it is up to all of us to help protect these habitats so that resources may be enjoyed, unimpaired, by future generations.
Resource Monitoring
The National Park Service is tasked with managing park resources "unimpaired for the enjoyment of future generations." Yet to achieve this, park managers must know the conditions of their park's natural resources—past and present—over the long term. The Gulf Coast Inventory & Monitoring Network is one of thirty-two Inventory and Monitoring networks nationwide. The network monitors natural resources in eight national parks, including San Antonio Missions. You can see inventory reports on important park resources here: Inventory Reports (U.S. National Park Service) (nps.gov)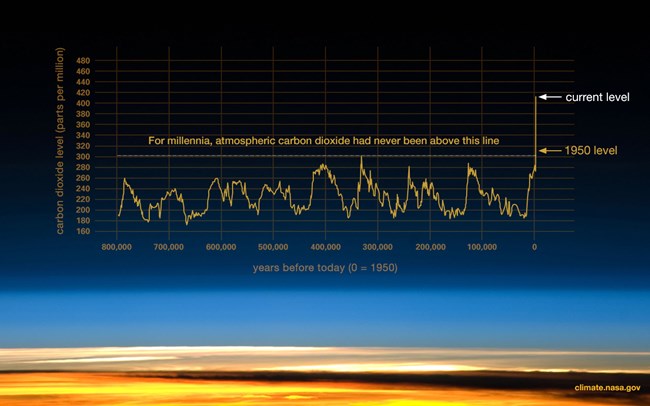 Climate Science
Based on scientific evidence, there are significant changes in our global climate patterns largely due to the increase in atmospheric carbon dioxide, or CO2 gases mostly produced by human activities. As our global climate warms, the health of our planet along with everything that relies on it are at risk.
We see impacts of climate change here in San Antonio and in our urban national park. Warming trends are intensifying already higher temperatures in heat island areas. San Antonio is a heat island, which is an urban area experiencing higher air temperatures than the rural spaces surrounding it. To learn more about Climate Change in San Antonio Visit
SA Climate Ready (sasustainability.com)
How do you take care of your waterways?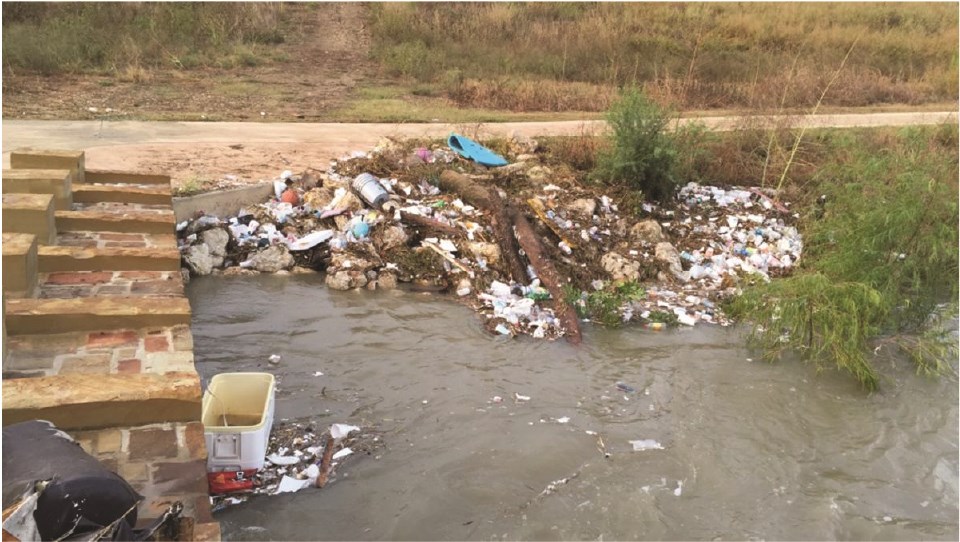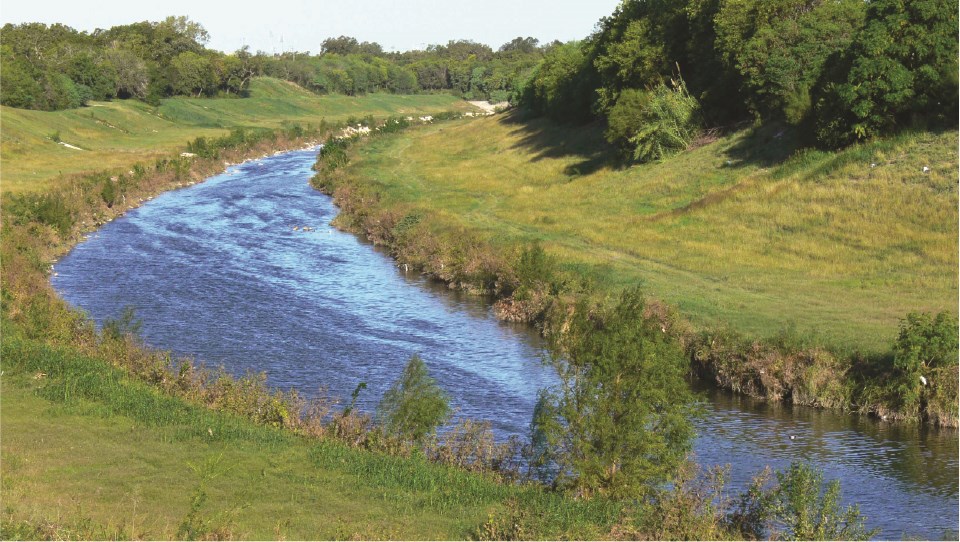 Left image
Trash in the San Antonio River
Credit: San Antonio River Authority
Right image
San Antonio River Basin
Credit: NPS Photo
How is climate change affecting our park?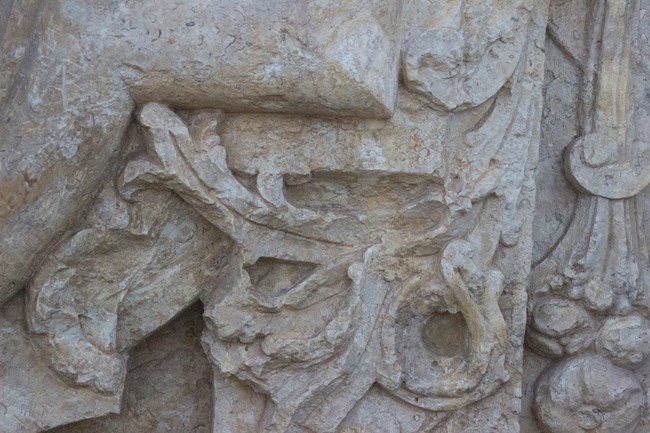 Effects on Historic Structures
Extreme dryness (drought) followed by periods of intensive rain harms our historic stone structures. These cycles of drought and heavy rain have intensified in the last couple decades and are accelerating the deterioration of the stone structures.
Intense rains increase rising damp (a condition caused by ground moisture rising up a masonry wall by capillary action) and can cause the limestone structures to deteriorate and the plaster to flake off.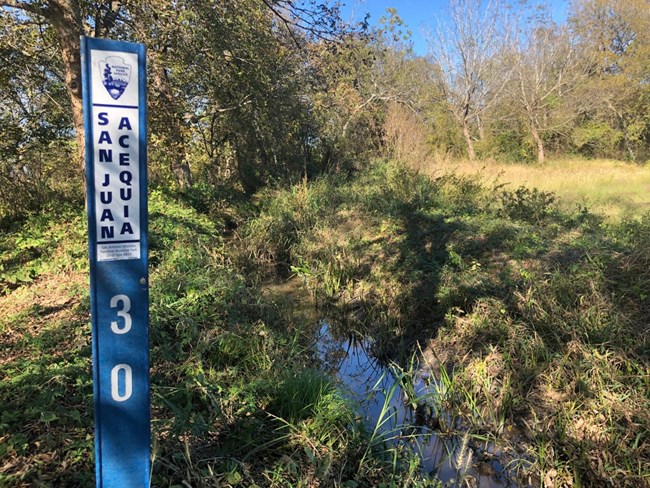 Threats to Historic Irrigation
The ability to irrigate farmlands and bring water to the missions was imperative to the success of the missions. San Antonio Missions was created not only to protect the structures but also two of the last remaining Colonial period irrigation systems (acequias) that sustained them.
One of our biggest concerns is maintaining the water volume along these acequias. Regularly maintaining these irrigation ditches and repairing any leaks is a critical way to conserve that water that originates from the San Antonio River. Each year could be more and more precious due to the effects of climate change.
We are already seeing lower river pool volumes that affect the flows in our acequias.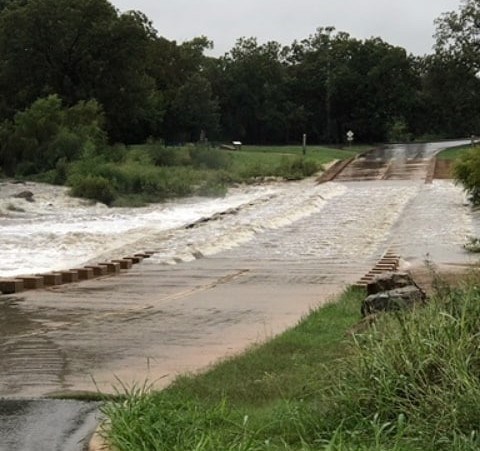 Extreme Weather
Climate change contributes to extreme weather. As the atmosphere warms, rain and snow patterns change. Examples include: tropical storms, heat waves, droughts, wildfire, rain and flooding, increased snow and ice, and more.
Recent unseasonal freezes in our area have effected our vegetation and the preservation of stone structures.
Heavy rains and flooding disproportionately effect the areas around San Antonio Missions National Historical Park, like the river crossing pictured to the right.
Which of these could affect, or has affected, the area that you live in?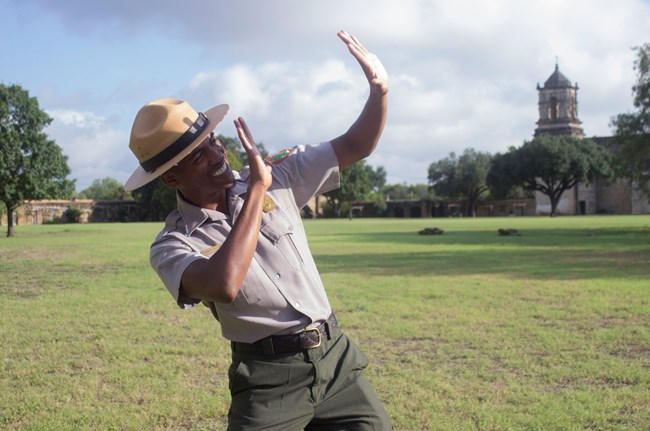 We're A Heat Island
San Antonio is a heat island, which is an urban area experiencing higher air temperatures than the rural spaces surrounding it.
This heat comes from energy produced by people, cars, buses, and buildings. Buildings, roads, and other infrastructure can absorb and re-emit the sun's heat.
This heat is then trapped, increasing daytime air temperatures and keeping nighttime temperatures high. Heat island effects also impact water and air quality in the park.
One way to reduce the heat island effect and fight climate change is by protecting and planting vegetation. Plants absorb carbon dioxide which is a leading pollutant and can reduce the heat of surrounding areas through evapotranspiration and by providing shade.
Increasing vegetation is a simple and effective way to reduced urban heat islands.
Think of what you can do in your home or community and make a plan.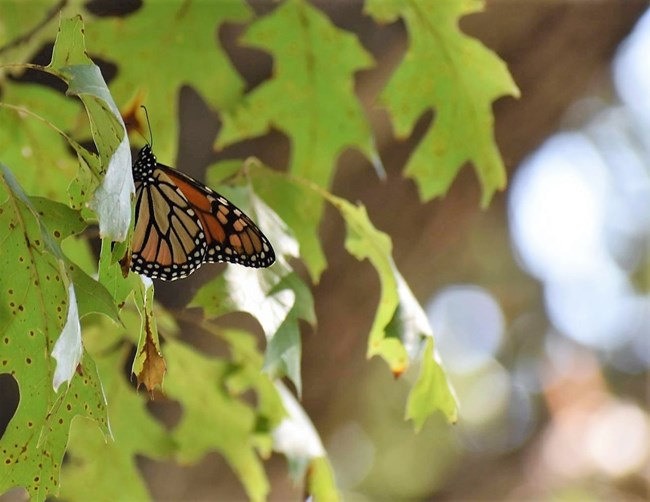 Monarch Migration
The monarch migration is a magnificent natural phenomena. They migrate to Mexico each Fall from the central and eastern U.S. and even southern Canada.
North American monarch population has severely declined. Habitat loss, pesticides, disease, predators, extreme weather, and climate change all threaten monarchs.
These butterflies have signifiant cultural value as well. A Mexican tradition tells tales of monarchs as the returning spirits of their deceased relatives.
Create habitats for monarchs and other important pollinators by planting diverse, native nectar plants and milkweed. Conserving pollinators and their habitat will help other animals like birds and mammals, even the survival of our own species.
Last updated: June 1, 2022