Stories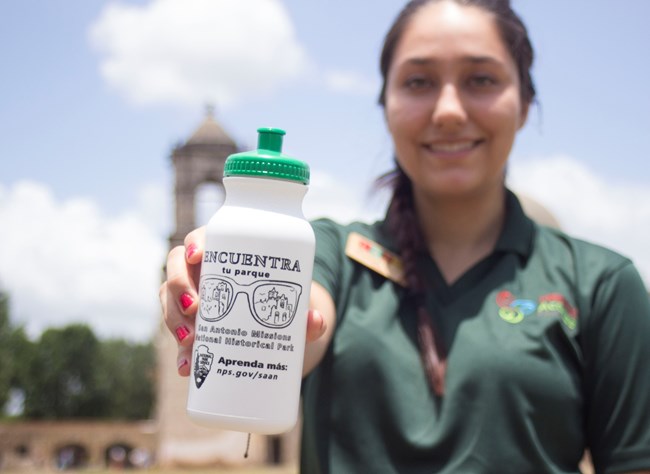 Featured Story:
Tejano Culture
San Antonio Missions National Historical Park has been home to many peoples and cultures throughout history. Join us as we explore one of those cultures: Tejano. The evolution of Tejano culture is closely tied to the missions in San Antonio. Read on as we take a closer look at Tejano history, then and now.
Tejano Roots: Finding Your Park
Experience it!
Learn to make traditional recipes from San Antonio:
Traditional Corn Tortillas
Corn tortillas were a staple for indigenous peoples of the missions. Mission inhabitants would soak dried dent corn in cal, a lime powder derived from limestone. They would then grind the corn on a metate, press the dough into a thin tortilla, and pan fry the tortilla. Follow along as we walk you through cooking a traditional corn tortilla from scratch!

Duration:

2 minutes, 20 seconds
More Research:
In order to better understand what these walled, medieval communities were like, it is important to first learn about five important factors of the missions: the people, the church, farming, ranching, and
caminos reals
.
Research
Historians continue to research and write about their findings as new material is found. Click here for edited portions, suitable for students, of Jake Ivey's Of Various Magnificence, the Architectural History of the San Antonio Missions in the Colonial Period and the Nineteenth Century.
First Person Documentation
The Spanish, both from the Church and the Government, were prolific and meticulous recorders of the events and activities that unfolded during their colonial period. While the National Park Service has access to many of these records, we know there are possibly thousands still waiting to be uncovered in the storerooms and archives of Spain and Mexico.
Following are some of the reports that have been translated into English. The originals in 18th century Spanish are available on microfiche at the park's headquarters.

1759 Report of Fr. Mariano Francisco de los Delores y Biana, Transcriber and Translator Rosalind Z. Rock, Ph.D, 2007
Glossary
1772 Inventory of Mission Nuestra Señora de la Purísima Concepción de Acuna, Transcriber and Translator Rosalind Z. Rock, Ph.D, 2006
Last updated: July 5, 2018