Group Volunteer Opportunities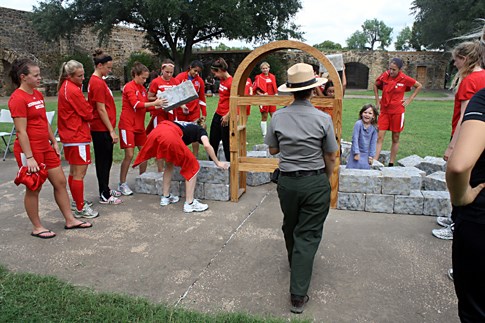 Volunteer groups from local organizations, schools, and corporations come together at the Missions to help our park staff accomplish jobs or projects that otherwise could not be completed. Group sizes can vary depending on the park need.
Some opportunities for volunteers may include:
San Antonio Food Bank – Mission San Juan Farm

Invasive Plant Removal - Acequia Preservation

Mission Groundskeeping
If you are a group leader or interested in group volunteer opportunities, please contact the Volunteer Coordinator.
Volunteering with Park Partners
Our park works with a variety of partner organizations to facilitate volunteer opportunities. For these positions, apply directly through our partners' websites. San Antonio Missions NHP partners with the San Antonio Food Bank and Mission Heritage Partners for several projects and events. Visit their respective webpages for more information about their organizations.
Last updated: October 12, 2017