History Treks on Trails 800 Miles Trail of Tears National Historic Trail-Alabama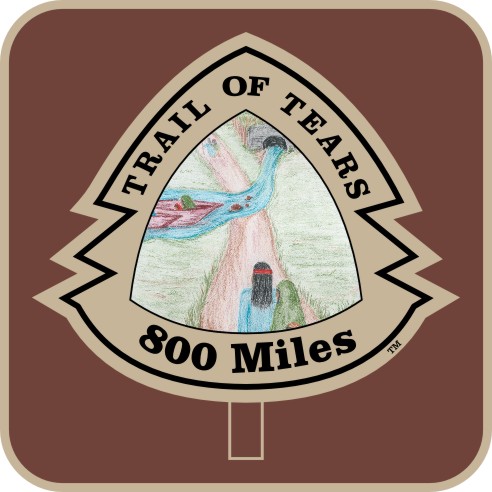 News Release Date:
March 24, 2014
Contact: Keena Graham , 256-495-2672
Imagine leaving your homeland, journeying across foreign landscapes, subsisting off salted pork, cornmeal, and whatever you can kill along the way, settling in a new and sometimes hostile place to start over. Thousands of people from the Cherokee, Chickasaw, Creek, Choctaw, and Seminole nations were pressured by the Federal government and citizens and politicians from southeastern states to do just that in the 1830s.
The Trail of Tears National Historic Trail encompasses over 800 miles of 14 land and water routes that start in North Carolina and ends in Oklahoma. Some of those routes are in Alabama. Portions of these routes are on private property. However, some reside on public lands. We want you to explore Trail of Tears history by biking, hiking, and paddling the routes that traverse the state and National parks in Alabama as a part of our "800-Miles History Treks on Trails" program funded with an Active Trails grant from the National Park Foundation.
This is how it works:
Visit participating parks and hike, bike, or paddle their trails.
Keep a log of the distances you travel.
The first 500 people to reach these goals will receive the following:
100 miles- a pin
400 miles a patch
At 800 miles, you will receive a Trail of Tears hiking medallion designed by Kelley Clinton.
Participating parks:
Russell Cave National Monument: https://www.nps.gov/ruca/index.htm
Little River Canyon National Preserve: https://www.nps.gov/liri/index.htm
Lake Guntersville State Park: http://www.alapark.com/lakeguntersville/
DeSoto State Park: http://www.alapark.com/desotoresort/
Additional Information:
You can reach your milestones at all participating parks, some, or one. You may also achieve your mileage at other Trail of Tears sites in Alabama such as paddling the Tennessee River or Weiss Lake. Simply make note of it. Visit the Trail of Tears National Historic Trail website: https://www.nps.gov/trte/index.htm tofindmore trail route locations.
This is an honor system. Send your log information to Russell Cave National Monument, 3729 County Road 98, Bridgeport, Alabama 35740 or fax it to (256) 495-9220 or email it to keena_graham@nps.gov.For more information about his program, call (256) 495-2672.
Last updated: April 14, 2015