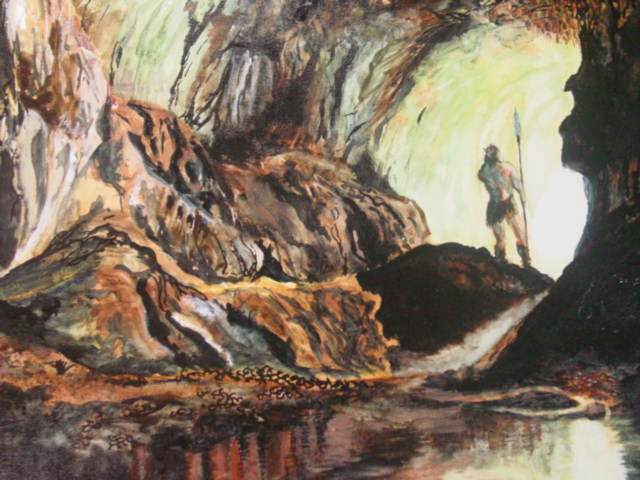 Russell Cave became a National Monument on May 11, 1961, signed into law by John F. Kennedy. The National Geographic Society donated 310 acres to the American people because of the great archeological discoveries there. The park is located in Bridgeport, Alabama.
WHY DID THEY LIVE IN THE CAVE...
The cave entrance was used as a shelter by prehistoric people for about 10,000 years. They kept coming back often because it had all of the necessities needed by the people.
The cave provided shelter from the elements. The air flows out of the mouth of the cave and maintains a comfortable temperature. The inside of the cave system stays a steady 58 degrees.
The two entrances of the cave were originally at water level. A large roof fall raised the floor level of the right side making it more habitable. Flood deposits covered the artifacts that people left behind. Eventually, the floor of the cave was built up about 40 feet.
A natural spring provided fresh water which continues to flow until this day. The water comes up out of the ground near the front entrance and flows into the cave. It travels underground for 1 ½ miles and empties into Widow's Creek and eventually into the Tennessee River.
Tools and weapons were made from chert that is found in the rocks at Russell Cave.
Plants provided food, tool making materials, and medicine. The environment at Russell Cave ranged from limestone mountain slopes, sandstone mountain tops and valley floors.
Animals living in the area provided food. The bones were used to make tools.