Date:
December 9, 2008
Contact:
Lisa Mosczynski
, 508-341-4876 (cell)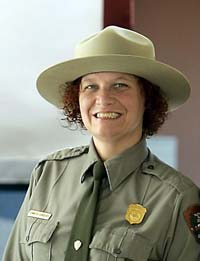 New Staff Joins Roger Williams National Memorial
Jan Reitsma, superintendent of the Roger Williams National Memorial announced today that a new site manager had begun work at the Memorial.
"We are very pleased to welcome Jennifer Gonsalves to Roger Williams National Memorial," Reitsma said. "She will be the first full-time site manager at the Memorial and brings a great deal of creative energy as well as diverse experience from several positions she held at New Bedford Whaling National Historical Park, most recently serving as the acting superintendent. The National Park Service is acknowledging the significance of the site and the story of Roger Williams as the defender of "liberty of conscience" by making this a full-time position and we are looking to Jennifer to help us enhance the Memorial as a destination and experience for visitors from near and far, in particular by working in partnership with the city of Providence and other institutions in the city," he added.
Gonsalves' career with the National Park Service began with the dedication of New Bedford Whaling National Historical Park in 1998. She is a New Bedford resident with three children and she holds a B.A. in English Literature from UMass Dartmouth and a Masters degree in Community Planning from the University of Rhode Island. Gonsalves feels that her background will serve her well at the Roger Williams National Memorial. "The story of Roger Williams – religious freedom, social consciousness and constitutional rights – they are so relevant today," Gonsalves explained. "I am intrigued by the challenge to translate those profound concepts to the general public and Providence is such a dynamic city to synthesize this history and culture. I am looking forward to working with staff and partners there."