News Release
Roger Williams National Memorial Wins Best of Rhode Island Award for New Exhibit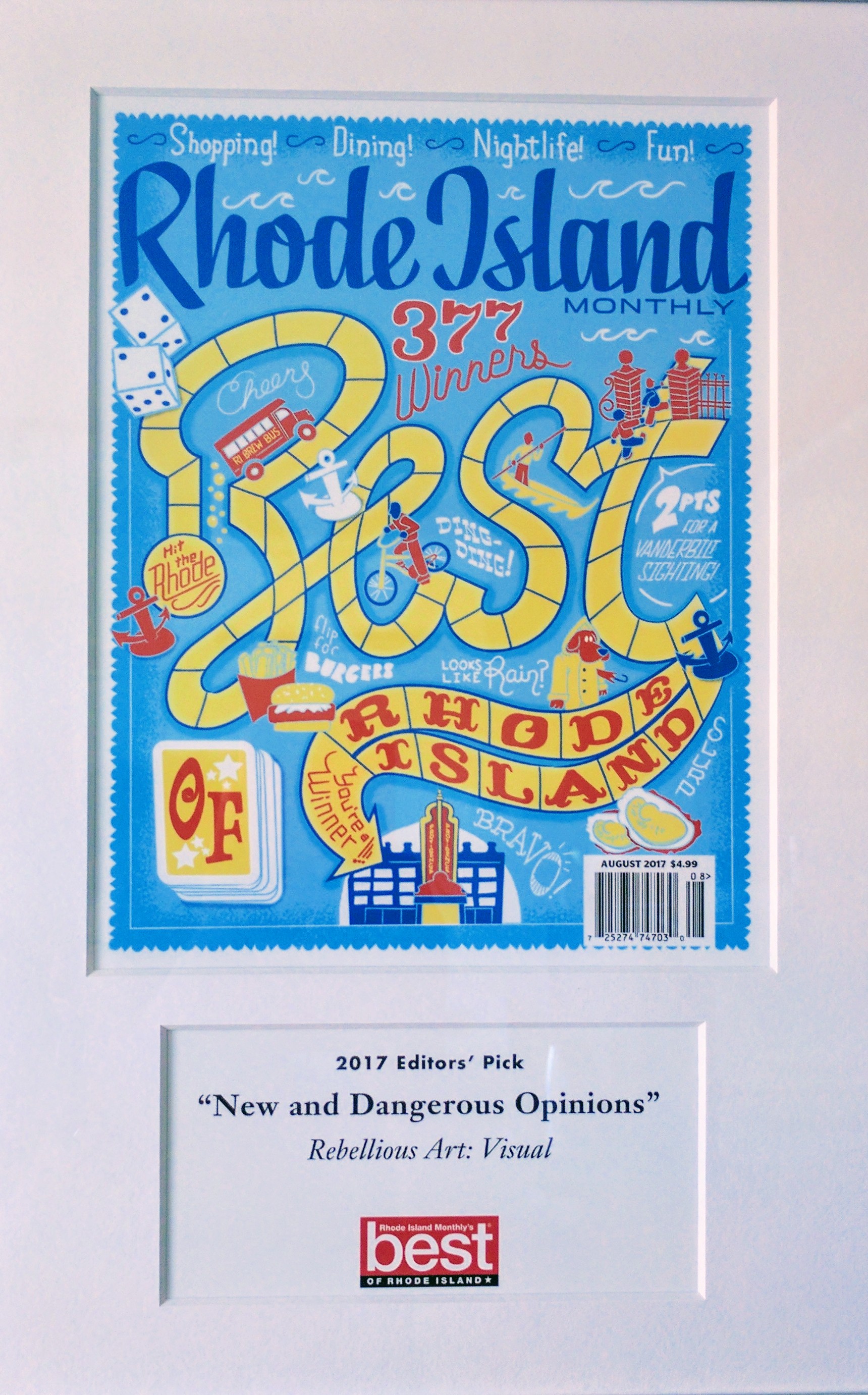 News Release Date:
August 9, 2017
Contact: Sparkle Bryant, 401-521-7266
PROVIDENCE, RI: On Thursday, July 25, 2017, Roger Williams National Memorial received a Rhode Island Monthly's
Best of Rhode Island
Award for their new exhibit, "New and Dangerous Opinions".  
Accepting on behalf of the memorial were rangers Jennifer Smith, John McNiff, and Sparkle Bryant. The new exhibit received an Editor's Pick award for
Rebellious Art: Visual
. Editors at RI Monthly said of the new exhibit, "the small but striking presentation proves our founder's beliefs are still relevant after four centuries."  
Superintendent Meghan Kish, said "Williams's ideals of complete religious freedom, separation of church and state, and government run by the people, ideals many Americans take for granted today, were extreme and dangerous in the 1600s. They were seen as no less 'dangerous' than Black Lives Matter and same sex marriage are today."   
The new exhibit was the first major change in the visitor center in twenty-four years. This provocative and interactive exhibit makes the connection between what are often considered new and dangerous opinions today and Williams's ideals of freedom from more than 300 years ago."  
Interacting with the exhibit is encouraged. One element of the exhibit is a touch screen computer where you can discover who would have a voice in colonial Rhode Island and Massachusetts Bay. In another section, you are encouraged to touch and play with reproduction artifacts from the 1600s. A dry erase board stands near the door where visitors are asked to voice their own opinion on freedom and what may be new and dangerous opinions for America today.    
Roger Williams National Memorial, a unit of the National Park Service, commemorates the life of the founder of Rhode Island who was a champion of the ideals of religious freedom and liberty of conscience. The memorial's visitor center is located at 282 North Main Street in downtown Providence. It is open seven days a week, from 9:00 a.m. -5:00 p.m., and offers information, exhibits, and a free orientation film on demand. For more information, call the visitor center at 401-521-7266, or visit
www.nps.gov/rowi
or follow us on Facebook.
About the National Park Service. More than 20,000 National Park Service employees care for America's 417 national parks and work with communities across the nation to help preserve local history and create close-to-home recreational opportunities. Visit us at
www.nps.gov
, on Facebook
www.facebook.com/nationalparkservice
, Twitter
www.twitter.com/natlparkservice
, and YouTube .
www.youtube.com/nationalparkservice
.
Last updated: August 9, 2017