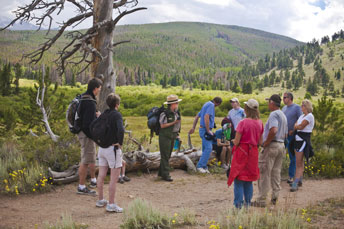 Special Programs
The 23 minute park movie, Spirit of the Mountains, is shown daily at Beaver Meadows Visitor Center and Kawuneeche Visitor Center.
Night Sky Programs are offered during the summer months. The park will also be hosting a Night Sky Festival July 28-30, 2016.
Evening Programs are offered during the summer at park visitor centers and several campgrounds. During the winter there are occasional programs offered at the visitor centers.
All programs, unless otherwise noted, are free and open to the public. Park entrance fees may apply. For more information about Rocky Mountain National Park call 970-586-1206.