Plan Ahead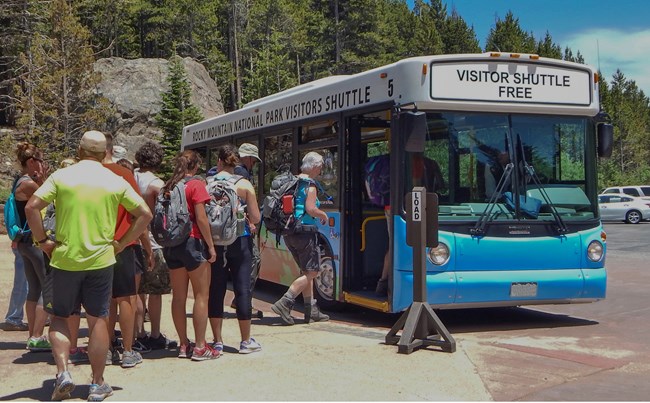 Rocky is a Popular Place!
More people than ever before are coming to experience the grandeur of Rocky Mountain National Park: in 2018, the park had over 4.5 million visitors— the third most visited national park in the country. While this level of visitation means that new and larger audiences are learning about and experiencing this incredible place, it also presents challenges.
What To Expect
Rocky is busiest throughout the summer and on fall weekends. In these busy times, especially between 9 am and 3 pm, you should expect:
Long lines and wait times at entrance stations
Full parking lots
Congested roads (i.e. heavy traffic)
Busy trails
Full campgrounds
When parking areas fill and heavy congestion warrants, vehicle access may be restricted in the Bear Lake Road corridor, the Wild Basin area and the Alpine Visitor Center parking area. In 2018, these restrictions occurred most days in July and August, in addition to weekends in June and September.
What You Can Do
Check the weather before you leave home. Knowing the expected weather will help you plan your day and destinations. Afternoon thunderstorms are a serious danger—if you plan to hike later in the day, it's critical that you know the forecast for the elevation of your destination, particularly to avoid lightning and thunderstorms.
Carpool and use the free park shuttle.
Visit the Alpine Visitor Center early or late in the day. The Alpine Visitor Center parking lot is busy from 10 am to 3 pm. During these busy hours, you may be unable to park at the visitor center.
Hike early or late. Trailhead parking lots fill early in the day:

Glacier Gorge Trailhead: 6 am
Bear Lake Trailhead: 8:00 am
Park and Ride: 9:15 am
Wild Basin Corrdidor: 9:30 am
Want to hike the Bear Lake Road corridor but planning to arrive after 9:30 am? Your best, and some days only, option will be to take the Hiker Shuttle from the Estes Park Visitor Center, located at the intersection of US Hwys 34 and 36.

Reserve campsites early. During busy times, most if not all reservable campsites are reserved well in advance, so if you're interested in staying in Aspenglen, Glacier Basin, or Moraine Park campgrounds, reserve a campsite up to six months before your visit. Rocky's two first-come, first-served campgrounds fill up fast. Timber Creek Campground, on the west side of the park, fills up last.
Explore Rocky's wild west side. More than eighty percent of visitors arrive through the east entrances.
Enjoy the fall on a weekday. In September, visitation is 50 percent higher on weekends than weekdays.
Check our webcams. Use the Beaver Meadows Entrance Webcam and Fall River Entrance Webcam to view current lines and vehicle flows.
Expect huge crowds on fee free days. Fee free days are usually extremely busy.
Last updated: January 6, 2020