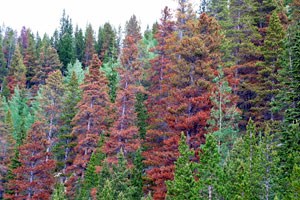 The Mountain Pine Beetle
Why are there so many brown trees? The Mountain Pine Beetle is one of several common, native insects that challenge western pine forests. Drought conditions, mild winters, dwarf mistletoe infestations, dense late seral mature forest stands, and a lack of wildland fires have contributed to the outbreak. The scale of the current beetle epidemic is unprecedented in historic times, with millions of acres of trees being affected throughout the West from Mexico to British Columbia.
Broadband users click here. Dial-up users click here. iPod users click here. For a printable version of the script, click here.