Ranger Thoughts 2010
December 22, 2010
Winter has approached us fast, and this is another season I have not yet experienced at the park. I am surprised to see that not much snow falls on the eastern slope of the Rocky Mountain chain; however up in the higher country, above 9,000 feet, it is a different story. The weather in Estes Park is not indicative to the weather you will see hiking on the trails. If you are planning a trip up to Bear Lake, make sure you are equipped for winter weather conditions. It is always a good idea to bring stabilizers, hiking poles, and snowshoes, and remember to dress in layers. You can actually go on this very website and get information about trail and snow conditions for some of the more popular hiking destinations.
Once the snow starts falling in the mountains, it pretty much sticks around until May…not too much different from where I lived most of my life, MinneSNOWta,. I grew up with winter in my blood, and that's why I think it's funny when people give me a concerned look when I tell them that I work here all year round, even in the winter. They automatically think I am going to be cold, miserable, and stuck indoors, but so far this winter seems a lot milder than the ones I am used to. The only thing that has really caught me off guard is the wind. I'm not used to my windows shaking, and feeling like I'm going to be swept away at any minute. At least the howling wind is a lot better than the negative degrees days when your snot freezes inside your nose and it hurts to breathe in the cold winter air. It is making me cold just thinking about a Minnesota winter.
Regardless of the cold or the wind, winter is a beautiful season, and shouldn't be something we waste away by sitting inside. I recently went up to the Bear Lake area to snowshoe up to Nymph Lake, and was in awe of the winter wonderland. The ground blanketed with a couple feet of snow, lakes frozen to their cores, and white capped peaks towering from above made me feel as though I had entered a different world. A world dominated by small crystal ice formations that once fell from the clouds above. The Subalpine Spruce and Fir forests have been shaped by snow for millions of year, and the snow that covers the ground is the blood that feeds the life of the forest. Plants and animals have learned to abide by the snows rules by adapting, so to survive until the spring thaw out. Humans too have learned to adapt to the winter season. I would encourage everyone to put their adaptations to the test, leave their warm shelters, bundle up in their extra layers, and come experience the winter wonderland that is Rocky Mountain National Park.

---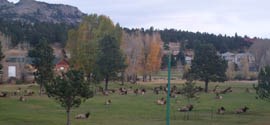 November 16, 2010
Believe it or not, it is pretty much already winter around here! The elks' bugles that once rang through our open meadows have grown silent, and the beautiful yellow aspen leaves have changed and fallen. One of the highlights of my fall was working shifts with the Elk Bugle Corp, one of the park's many volunteer groups. During the fall we close the meadows of Moraine Park, Horseshoe Park, Upper Beaver Meadows, Harbison Meadow and Holzwarth Meadow for the elk rutting (breeding) season. The reason for this is because the elk congregate in these open areas to play out the wild acts of their breeding behaviors, such as bugling, gathering harems, and sparring. Therefore, the duty of the Corp and I was to stay out and monitor any people who try to disturb the elk, and believe me there are plenty of them. Usually it's the people that forget that elk in Rocky are wild animals, but that seems to slip their minds when they are trying to get that million dollar picture. But for the most part nights out in the meadow hardly felt like work, especially when you get to see the rut in action. Being able to watch two large bull elk, at about 1,000 lbs each, spar up close and personal is better than any sort of nature TV show. Many visitors lined the meadow with binoculars, while others sat in the back of pickup trucks and tailgated the event. Everyone including myself sat in awe of the amazing show taking place right before our eyes. This was my first fall working here at Rocky, and many people would agree when I say that it is the best season here at the Park. The elk rut is only one of many reasons you should visit Rocky during the fall season so if you missed the opportunity be sure to come back and visit us next year.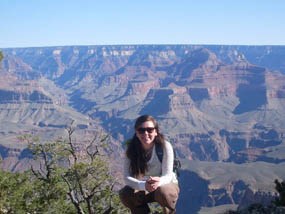 Another memorable experience this fall was getting to go and attend a NPS Fundamentals course down at the Albright Center in Grand Canyon National Park (not a bad a place to attend a training class). This is a course designed for all new permanent National Park Service (NPS) employees, and it is set up to help us understand the mission and get a better understanding about the Service we all are working for. It was a two-week long course, and experience I will never forget! My class was made up of people not only from National Parks, but also Recreation Areas, Scenic Rivers, and Historic Battlefields, and these locations were scattered all over the country. We had a very diverse class with different job titles, and different experience levels, but yet everyone came together to make such an amazing learning experience. I feel like I left with a better understanding for my role within the NPS, as well as the roles of all the other divisions and employees. Whether a person works in an administrative position in the office, or is out in the field picking exotic plant species, we all are working under the same NPS mission. That mission is clearly spelled out in the Organic Act of 1916 and it says that we are, "to conserve the scenery and the natural and historic objects and the wild life therein, and to provide for the enjoyment of the same in such a manner and by such means as will leave them unpaired for the enjoyment of future generations." It was awesome to be able learn about the National Park Service on a larger scale and now more than ever I am truly proud to be working for such a wonderful agency. I want to thank all of my Fundamental II classmates and instructors for adding so much to my experience at Albright. I know that we will all stay in touch and I look forward to seeing you all in Fundamentals V!

---
July 29, 2010
Sorry for the hiatus recently, but we have been pretty busy in the park. As some of you might know we had a long-awaited fire in the park. The Cow Creek Fire in the West Creek Drainage on the Northeast side of the park has been burning since Thursday, June 24. It was a natural fire caused by lightning. Because of other fires in the state and available resources, weather forecast of high winds and low humidity, as well as the proximity to the community of Glen Haven we made the decision that day to focus efforts on suppressing the fire. Monitoring of the fire will continue, and the burned area measures more than 900 acres. The immediate threat to the area on the park's eastern boundary has been mitigated; however, there is potential for the fire to spread to the west. The fire will likely burn through the remainder of the fire season until a significant weather event, such as snow this fall, puts out the fire.
I have always loved trees and been very interested in forest and fire ecology. At the very beginning of ecological studies, people like Fredric Clements believed the best and most diverse communities of forests were the ones that reached climax communities. This was soon proven wrong and people began to realize that disturbance regimes were needed in order for succession and forest regeneration. Fire is one important way that was able to happen, and actually recently burned forests are the most biologically diverse. Fires also create diversity among habitats and a mixture of animals can make homes among the different trees. Many species of plants and animals have adapted to and exploit recently burned areas. For instance, Lodgepole Pines have specialized cones called serotinous cones that lay dormant on the forest floor and will only take seed if the cones are popped open with intense heat.
Trees cannot live forever and just like people they weaken with age, causing mature forests that haven't had disturbances more susceptible to diseases and insect infestations. In RMNP, forests are old and have been without major fires for many years, which is one of the major reasons we are going through this epidemic of the Mountain Pine Beetle. The beetle is native to the area, and by doing analysis of tree rings we can see that outbreaks have occurred in the past. So the park is treating this like any other natural condition and allowing this beetle cycle take its course in the backcountry of the park. However, in the popular visited areas of the park we are working on mitigating hazard trees and hazard fuels tied to the protection of life and property. This infestation is a disturbance, and as soon as these red trees fall over we are going to see a new healthy forest spring to life, we already are on the west side of the park.
It has been really interesting being in a National Park when a wildland fire is happening. This was my very first experience with any sort of fire, and I tried to get myself involved in any way possible. I attended fire briefings and helped set up a press conference. It was really a thrilling experience. I have learned a lot just by observing the many different aspects that go into not only controlling the fire, but also informing the public about it. Dealing with fire can be very tricky, but I was amazed at how so many park employees and interagency fire crews were able to work together and make a chaotic event look so well put together and organized. There were 237 personnel that gave over 20,000 hours, and everyone did their part to get this fire under control in the safest way possible. Thank you to all who helped with the Cow Creek fire.
---
July 29, 2010
Dear Reader,
The views expressed are those of the writer and do not necessarily reflect the views of the National Park Service.
Here comes summer…finally! For those of you who have been in the park recently, you probably realize that things are really starting to pick up and the summer season is upon us. It took awhile for the weather to get warm, but now that the sun is shining, things around here are bursting into life. The snow-packed trails are melting out, the wild flowers are coming into bloom, and baby animals are taking their first steps into the world. My favorite part about early summer is the sight and sound of rushing water, and this year in the park you are going to see and hear plenty of it. Our late spring snows have created powerful waterfalls, and bank-full streams and rivers. This is the perfect time of year to go and check out your favorite falls in the park, and hopefully you, like me, will be blown away by the power of running water.
I recently made it up to Bridal Veil Falls and as I was watching the blankets of water crash down the backs of the rocks into the pool below, I couldn't help but be amazed by the power of water. Sitting there, I began to think of the critical role water plays in all forms of park life, and human life as well. Over 75% of the earth's surface is covered by water. On a very intimate level, water ends up making about 50-66% of total body mass of adult humans. Water is the driver behind all life, and it is a resource that needs to be respected and used properly. Simply put, we wouldn't exist without the simple molecular bonding of two hydrogen atoms with an oxygen atom.
Although we have so much water on the planet, not that much of it is fresh water. In fact 97% percent of the water on the earth is in saline oceans. Water pollution is becoming a huge problem as the population of the world grows larger and larger, and many people are living without access to clean water. Increased oil consumption has driven companies to pursue off shore drilling and we get tragedies like the BP spill in the Gulf of Mexico. Large scale agriculture and chemical use on crops has impacted many of our lakes and rivers. People have begun to neglect this vital resource that is not only for us, but also the many other forms of life that will perish in its absence.
Water is powerful in itself, and with so much late winter precipitation, the currents are fast and rivers are running high. The weather is warming and water might look refreshing after a long day's hike, but swimming in streams and rivers this time of year is very dangerous. But I do encourage all of you to come out, take a hike to your favorite park waterfalls, and sit in awe at the power of water.
A good documentary to watch in order to become more informed about the world's water crisis is Flow by director Irena Salina.
Receive more information about this and other good water documentaries at http://www.treehugger.com/files/2009/06/five-documentaries-to-understand-water-crisis.php
---
June 3, 2010
Getting a permanent position with the National Park Service is more than a dream-come- true for me. Looking back to my younger years, as a little girl digging for worms and beetles in my parents' backyard, there was no doubt that I had to have a profession working outdoors protecting nature. What I didn't know was that I was going to be living in the Rocky Mountains and working for one the biggest agencies of land conservation and preservation as a park ranger.
I grew up in the Twin Cities in Minnesota, where the nearest mountain was the hill at the neighborhood park that I used to sled down, and the wildlife viewing was the occasional raccoon digging through our trash. Before coming out to Rocky, I had never visited any other National Parks, but instead spent my summers on the shores of Minnesota's beautiful lakes. I think the reason we didn't visit parks is because my parents never felt like lugging their seven children out west in an RV…and who can really blame them. So, needless to say I was in shock when I made my first trip up Trail Ridge Road. I can honestly say standing at the overlook at Farview Curve, I fell in love with the mountains and it is a love that will never fade.
I worked my first two summers here at Rocky as a student intern on the west side of the park, and I was eager to learn all I could about this magnificent place. I spent my time hiking all the trails I could, familiarizing myself with the native flora and fauna, and learning the ins and outs of interpretation. I was like a child in a candy shop and everything was so exciting and new. After my second summer, I was offered a permanent job doing the exact thing I had grown to love. I loved being outdoors, and being able to share all I had learned about the park with the public at visitor centers and through ranger-led programs was an absolute blast. The only catch was prior to receiving the position I had to finish up school.
So I went back to the Midwest and finished up my last semester of college. My major was Conservation Biology, and I earned a certificate in Environmental Studies as well. Just this past March I packed my car up and made my way west to begin my career as an Interpretive Ranger on the east side of Rocky Mountain National Park.
I feel so fortunate to be in the position that I am and sometimes I have to pinch myself to make sure I'm awake. My stars have aligned! If there is one piece of advice I can give to anyone looking for a job it is to pursue what you love, and don't settle until you have reached it. I want to thank all the people that have helped to get to where I am today, and I hope all my readers will be able to come to visit the place that I feel in love with…even if it means packing up the seven kids in the RV. I am excited to be able to share my thoughts and adventure with you all, and hopefully see you in the park!
Last updated: February 24, 2015