West Side Programs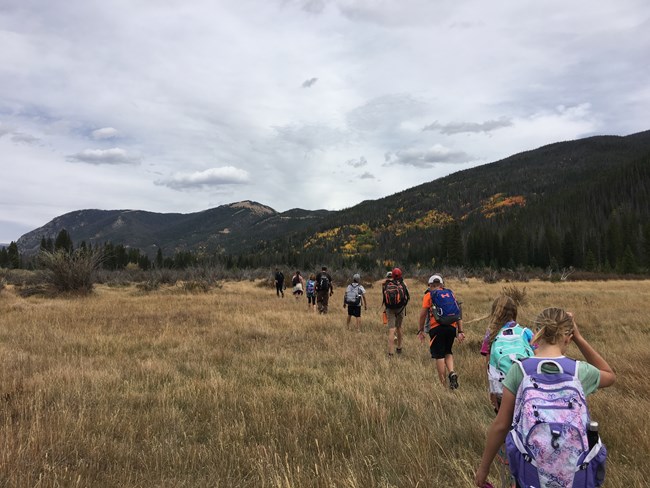 Are you looking to expand your student's knowledge of wildlife, ecology, geology, and more? We invite you to experience Rocky Mountain National Park with a park ranger!

Located near Grand Lake, CO, the Division of Interpretation park ranger staff are excited to both visit your classroom, or host your students on a field trip to Rocky. We currently visit schools in Grand, Jackson, and Routt Counties.

Classroom Programs:
Programs typically last about 45 minutes and are free of charge. Environmental Education programs are designed to follow Colorado State Standards and can be catered to fit your curriculum needs. Please call (970) 586-1510 to have a ranger come to your classroom!
Click here for the 2018-19 Classroom Program Flyer

Field Trip Information
Are you a teacher on the western slope of Colorado? Bring your students to Rocky Mountain National Park! We offer field trips that discuss geology, ecology, water use, and human history in September and May. We also offer snowshoe program field trips January to March.
Click here for the 2019 Snowshoe Field Trip flyer

Field Trip Reservations: Call (970) 586-1510 to make a reservation for a field trip to the west side of Rocky Mountain National Park.
Field Trip Duration: Most programs are designed for a 2-3 hour visit, including lunch.
Chaperone to Student Ratio: We require that you provide at least one chaperone for every 10 students. We recommend a ratio of four to one for grades K-2 and a ratio of six to one for grades 3-5.
Field Trip Cost: All education programs offered by Rocky Mountain National Park are free for school groups. Our program is funded by your tax dollars and donations to the Rocky Mountain Conservancy. If you would like to make a donation, please contact the Rocky Mountain Conservancy at 970-586-0108.
Accessibility: There are a few wheelchair accessible trails within the park and all of our visitor centers are ADA accessible. Most of our programs can be relocated or modified to provide accessibility. Please let us know if you have any participants that require an accessible site.
Last updated: November 9, 2018