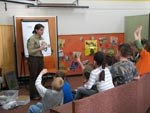 The Interpretation division on the west side of Rocky Mountain National Park offers hands-on, interactive programs for schools on the western slope. To view the Classroom Programs Brochure for Grand and Jackson counties, please Click Here.
To schedule a program, please call Michele Simmons at 970-586-1518 or 970-627-3471, or email e-mail us.
Programs typically last about 45 minutes and are free of charge. If you don't find a program that meets your needs, we may be able to tailor a program to your curriculum requirements.