Volunteer Internships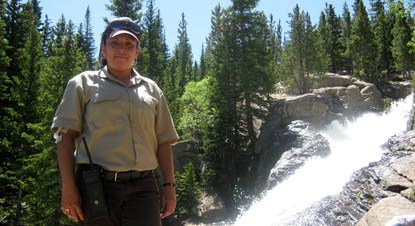 Rocky Mountain National Park offers a variety of internships every year which provide opportunities for experience in several different areas of park operations including providing information to park visitors and presenting interpretive programs for park visitors.

Internship Dates– East side (Estes Park)
Summer Internship East Side: June 3 - August 18
Summer/Fall Internship East Side: June 3 - October 13
Fall Internship East Side: August 19- November 3
Internship Dates– West Side (Grand Lake)
Summer Internship West Side: June 3 - August 18 or June 3 -October 13
Fall Internship West Side: August 26 - November 17
Rocky Mountain National Park seeks college students or recent graduates of exceptional ability with a background in natural or physical sciences, history, communication, education, natural science interpretation, recreation and resources management or a related field. Interns mus possess a valid driver's license, have the ability to drive, have the ability to work on uneven terrain above 8,000 feet and be a U.S. Citizen.
Duties include preparing and facilitating up to four interpretive natural or cultural history programs to a variety of diverse audiences, answering questions at park visitor centers and communicating current park issues in a professional manner to the public.
Additional duties include separate projects related to social media and additional projects as assigned. Interns must have the ability to work as part of a team with park volunteers, seasonal and permanent staff, including communicating well with supervisors.

Benefits: A stipend of $240 per week plus housing is provided.

Application Process: You must mail separate applications for each internship opportunity. Applications must arrive in park by February 15. Mail a cover letter, a detailed resume listing education, work experience and interests, three references with contact information (Phone & email) along with a transcript (unofficial or official).

Mail East Side Applications to:
Attn: Sue Langdon
Rocky Mountain National Park
1000 Hwy 36
Estes Park, CO 80517

Mail West Side Applications to:
Attn: Maci MacPherson
Rocky Mountain National Park
16018 IS Highway 34
Grand Lake, CO 80447




Want some insight into what it's like to be a Rocky intern? Click
here
.
Last updated: January 6, 2018