Group Volunteering at Rocky Mountain National Park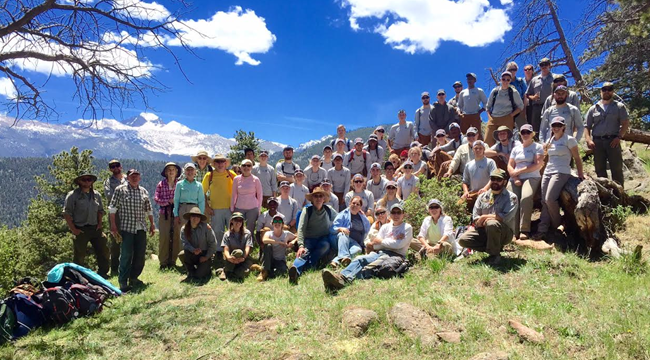 Thank you for your interest in volunteering at Rocky Mountain National Park!
2017 is an exciting year to be part of the action at Rocky as we enter what may be the busiest season in park history. With added visitation comes added challenges, so your volunteer service is more important than ever!
Rocky Mountain National Park is home to one of the most dynamic and hard-working volunteer programs in the National Park Service. Each year, Rocky enlists volunteer groups to help paid staff on various projects. The park completes projects AND groups learn about the park through service—it's a win-win! In 2016, over 1,600 volunteers took part in a group volunteer opportunity. Rocky saw volunteers from all over the US, as well as two international groups.
---
Logistics
Logistics can be flexible. If your group has different needs, call the Volunteer Office—we'll try to work something out. We're willing to get creative to have your group serve at Rocky!
Group Size: 2–40 people
Minimum Age: 12 years old

Volunteer groups bringing children need to provide

one adult leader for every five volunteers under the age of 18

.

Entrance: The Volunteer Office will provide the group with a free entrance pass for the dates of service. (This will be emailed to the group point-of-contact ahead of time.)
Vehicles: Groups must provide their own transportation.

Carpooling is highly encouraged

due to limited parking.
Camping: For every four hours of service, groups may be eligible for one night of free camping at Moraine Park Campground (projects on the east side of the Continental Divide) or Timber Creek Campground (projects on the west side of the Continental Divide). Free group camping is based on availability.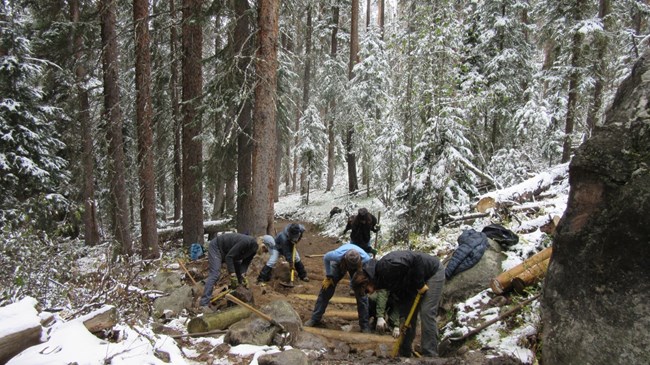 Things to Keep In Mind
Weather and Environment:
Check the weather conditions and come prepared. In the summer months, it might rain, become very windy, or even be very cold and snowy at higher elevations. In contrast, your day of service might be during a warm spell. It's your responsibility to check the weather and plan accordingly by furnishing your own outdoor weather gear to ensure personal safety in extreme cold, extreme heat, rain, snow, and other weather conditions.
Rocky Mountain National Park is a high-elevation park ranging from 7,600 feet to over 14,000 feet in elevation. Most volunteer work takes place between 7,600 and 12,000 feet. Keep this in mind when planning your work here. Make sure you acclimatize to the elevation before your scheduled work day.
What to Bring
For all projects, we ask that volunteers wear long pants, long sleeve shirts, and closed-toe shoes or boots. We also ask that groups come prepared for a day of work by bringing a backpack with plenty of water, food, a hat and sunscreen, and clothes appropriate for the weather. A backpack with a waist belt is recommended for trail projects.
The NPS leaders will provide leadership, tools, and equipment for the projects as well as any necessary safety equipment.
---
Next Steps
Remember, an application does not guarantee a project. Please wait for paperwork from the volunteer office before making plans for your project. Group projects will be assigned in the order Project Request Forms are received.
Thanks for your interest in volunteering with your group at Rocky Mountain National Park!
---
Boy Scouts of America and Girl Scouts of the USA
Rocky Mountain National Park has many special opportunities for Boy Scouts and Girl Scouts who volunteer.
Last updated: June 23, 2017