Group Volunteering at Rocky Mountain National Park
Thank you for your interest in volunteering at Rocky Mountain National Park! 2016 is an exciting year to be part of the action at Rocky Mountain because the National Park Service is celebrating its 100th anniversary!
Rocky Mountain National Park is home to one of the most dynamic and hard-working volunteer programs in the National Park Service. Each year, Rocky enlists volunteer groups to help paid staff on various projects. The park gets work done AND groups learn about their park through service—it's a win-win.
In 2015, over 1,600 volunteers served at Rocky by taking part in a group volunteer opportunity. These groups came from our neighboring towns in Colorado or other parts of the country to serve a day or more in the park. We offer opportunities for groups ranging in size from 2-60 (depending on the project and including any adult leaders). If your group is smaller or larger than the posted size, or you have members of the group under the age limit, please contact the volunteer office directly to see if we can accommodate you. We're willing to get creative to accommodate your group.
Things to Keep In Mind
Weather and Required Attire:
For all projects, we ask that volunteers wear long pants, long sleeve shirts, and closed-toed shoes or boots. We also ask that groups come prepared for a day of work by bringing a backpack with plenty of water, food, a hat and sunscreen, and clothes appropriate for the weather. A backpack with a waist belt is recommended for trail projects.
Check the weather conditions and come prepared. In the summer months, it might rain, become very windy, or even be very cold at higher elevations. In contrast, your day of service might be during a warm spell. It's your responsibility to check the weather and plan accordingly.
Rocky Mountain National Park is a high-elevation park ranging from 7,600 to over 14,000 feet above sea-level. Most volunteer work takes place between 7,600 and 12,000 feet in elevation. Keep this in mind when planning your work here. Make sure you get accustomed to the elevation before your scheduled work day.
Volunteer groups bringing children need to provide one adult leader for every five volunteers under the age of 18.
Cancellation Policy:
Projects may change depending on the current needs of the park, weather conditions, emergent situations, or staffing changes. We will do our best to notify your group a week in advance if your project is scheduled to change. IF YOUR GROUP SUDDENLY NEEDS TO CANCEL after committing to a project, remember: many park staff have been counting on your arrival. It is your responsibility to notify the park ASAP by calling the phone numbers provided in your volunteer packets.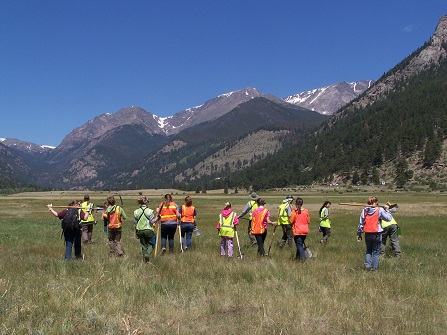 Camping and Entrance into the Park
We may be able to provide free camping in the Administrative Loop of Moraine Park Campground on the east side of Rocky. For volunteer groups requesting projects on the west side of the Continental Divide (nearer Grand Lake), we may provide camping at Timber Creek Campground. For every four hours of service, groups may be eligible for one night of camping. Free group camping is based on availability. Please see the camping section of the group application form to request your camping.Note: all group members staying in a free campsite will be required to participate in the volunteer work. Volunteer groups must provide all of their own camping equipment.

The volunteer office will provide the group with a free entrance pass to the park for the dates of service (this will be emailed to the group point of contact ahead of time). The supervisors of the groups will provide leadership, tools, and equipment for the projects as well as any safety equipment necessary. Additionally, a short orientation and safety briefing is given prior to your group starting work.
Next Steps
If you have considered the above information and would like to volunteer at Rocky, please have a look at the 2016 Volunteer Group Catalog.
Using the specific group size and age requirements for each project, apply for the project(s) your group is qualified for and interested in.
Please also provide an alternative project (or two) in case your first choice has already been assigned a group.
Using the group application form, please provide all of the required information, and submit the form via email or mail to the volunteer office.
Upon receipt, you will receive an email or call from the volunteer office for confirmation as well as to give you an idea of if/when your project will be scheduled.
Remember, an application does not guarantee a project. Please wait for paperwork from the volunteer office before making plans for your project. Group projects will be assigned in the order applications are received.
Thanks for your interest in volunteering with your group at Rocky Mountain National Park!
Groundwork Denver working at Rocky!
Watch the video of them working on this page.