National Park Service Centennial 2016
Centennial Vision
In celebration of the 100th anniversary of the National Park Service in 2016, America invites the world to discover the meaning of national parks to their lives and inspires people to both experience and become devoted to these special places.
On August 25, 2006 – the 90th anniversary of the National Park Service – Secretary of the Interior Dirk Kempthorne launched the National Park Centennial Initiative to prepare national parks for another century of conservation, preservation and enjoyment. Since then the National Park Service asked citizens, park partners, experts and other stakeholders what they envisioned for a second century of national parks.
A nationwide series of more than 40 listening sessions produced more than 6,000 comments that helped to shape five centennial goals. The goals and vision were presented to President Bush and to the American people on May 31st in a report called The Future of America's National Parks.
Every national park staff took its lead from this report and created local centennial strategies to describe its vision and desired accomplishments by 2016. This is just the first year, and there are many great things to come as the National Park Service prepares to celebrate 100 years!
To keep up with the Centennial Initiative and to experience the interactive version of The Future of America's National Parks and special features please visit the centennial website at www.nps.gov/2016.
Rocky Mountain National Park Centennial Strategy
Download a printable copy of the Rocky Mountain National Park Centennial Strategy (188K pdf).
Eligible Centennial Proposal for Rocky Mountain National Park (85K pdf).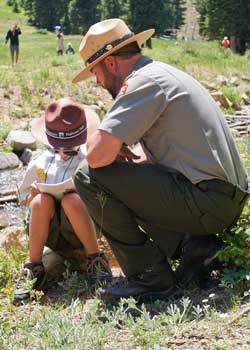 In 2016 we see a park that remains responsive and relevant to the American people. Our vision as we approach the park's 100th anniversary (in 2015), as well as the National Park Service's Centennial, is two fold. First, under the national goal of education, we immediately plan to reach out to youth through enhanced educational programming and opportunities with the creation of the Next Generation Fund (NGF). The NGF endowment consists of 10 programs or projects, including the Junior Ranger program, curriculum–based program, and use of technology. Youth are the future stewards of our parks. Secondly, under the national goal of Recreational Experience, we plan in later years to rehabilitate and improve the sustainability of our 350 mile trail system. Improving trail accessibility is also an aim. Trails allow visitors to engage with park resources and create memorable experiences.
Vaughn L. Baker, Superintendent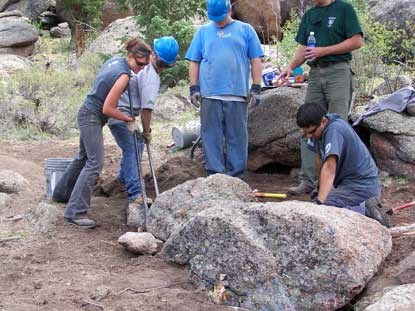 Last updated: March 13, 2015