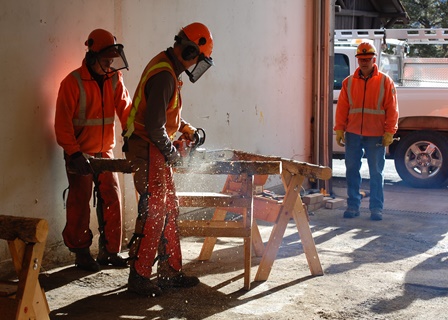 Volunteer Wes TeWinkle laughs when I ask him about how long he has spent with the Road Hogs volunteer group.
"Ten years," he says, leaning on his shovel, taking a break from shoveling snow. "My first day I didn't really know what to expect. Next thing I knew, they had me at High Point on Trail Ridge Road. Twelve thousand feet up and I'm shoveling rocks off the road from a rockslide."
Ten years later, he's not the only person donning the trademark orange shirt of the Road Hogs. About twenty volunteers have gathered to work on building buck-and-rail fence pieces for use out in the park later once the snow melts.
"When we first got started, we were a bit of a ragtag group," Lynn Weissenrieder tells me. "But now, we run more like a machine."
An apt description as I watch the group lay out their tools and supplies, engaging in a friendly debate about just which end of a log really was the larger one. The Road Hogs assist park staff with a variety of manual tasks: building fences, fire fuel reduction, ditch digging, and more.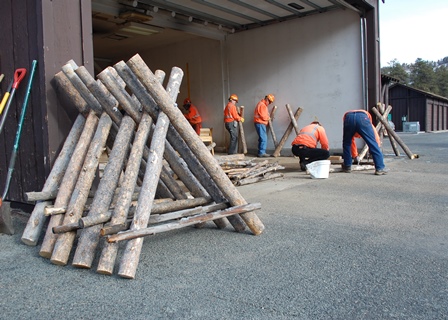 "We get it done because we work as a team," Peter Plaut tells me as he tunes the bar on his chainsaw, the other members of the team busy laying out tools and supplies.
"Make sure you put in earplugs," Weissenrieder tells me as he dons his orange helmet with earmuffs. "When the chainsaws get going, it gets loud."
Pretty soon, the garage barn is filled with movement and sound as the fence assembly line gets going. Raw logs, pre-cut by the Road Hogs earlier in the season, are laid out and drilled for bolts. The logs are then shifted over to the chainsaw crews who notch them and pin the ends for the bolting crew to tighten them. Finally, a bottom cross piece is hammered into place before the constructed buck-ends are carefully piled on a loader to be carried over for stacking.
Each orange-clad volunteer watches carefully the task at hand, even as they keep an eye on the overall movements of the group. It would be easy to compare it to a dance, but the bright orange shirts and the whine of the chainsaws and drills pretty much negate such a comparison. This is its own thing, a well practiced group of volunteers getting the job done, always with an eye toward doing so safely.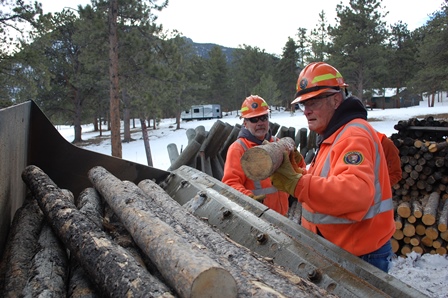 Whether a member for ten years or ten minutes, the Road Hogs make it clear they work best when they work together.
"You're handy to have around," TeWinkle tells me as I grab a shovel and then move a few bars.
I may have only been a part of the group for a few hours (and moved a grand total of about four fence pieces), but the Road Hogs volunteers made me wish I could have my own orange shirt.