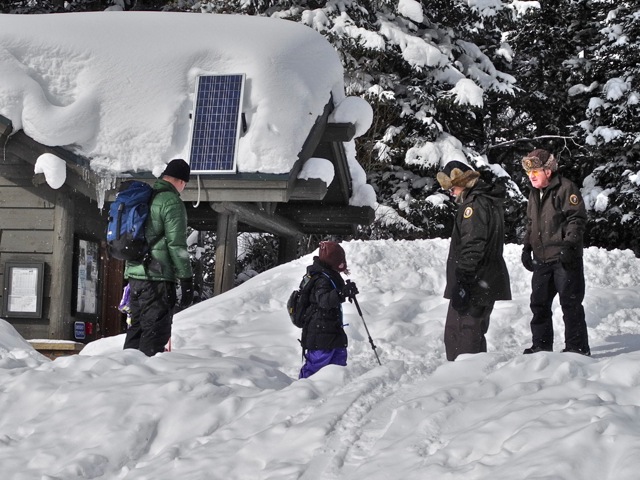 Every day in the winter, rangers check the weather at Bear Lake in Rocky Mountain National Park and make sure it's posted on the park website, for visitors to check on temperatures, snow depth, and trail conditions. But for volunteer Jon Olson, he doesn't need to check the website to know the weather at Bear Lake—he's already up there.
One of a dedicated core of volunteers who help manage the park's busiest trailhead, Olson spends on average several days per week, year-round, at nearly 9,500 feet. As visitors scramble to find a parking place and ask the inevitable question "Where is Bear Lake?" Olson directs them toward the lake (100 yards away) with a smile and a friendly offer to answer any additional questions.
But Olson is not alone at Bear Lake. He is one of a dedicated crew of volunteers who devote their days to helping people find their park at this popular trailhead. On a breezy December Saturday, I found Olson, Doc Hulsing, and Roger Gunlikson (nicknamed the "Polar Bears") bundled against the cold to greet visitors seeking the easy access to alpine lakes afforded by this trailhead.
As I arrived, a group of laughing students from Ontario was a good sign that the tales being offered up by Hulsing and Olson were having the desired effect. As couples and families, friends and lone hikers made their way on and off the trail, the impact was the same: happy visitors whose mountain experience had been bolstered by their contact with the Bear Lake volunteer crew.
Of course the volunteers get to come away with some great stories of their own.
"I just couldn't believe my eyes," Olson began, relating a story from a few winters prior. "This guy walked up the parking lot toward me carrying two boards with nails driven through them and inadequate camping gear. I asked him where he planned to go and he said he planned to make his way all the way over to Grand Lake." Olson shook his head. "I told him he didn't have the right gear, but from what I know, he made it over, boards and all."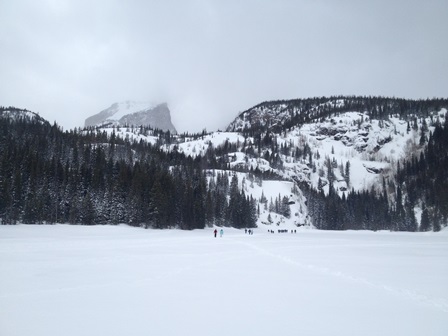 The strangest thing we saw while I was there was a man in shorts, despite the wind chilled temperature of approximately five degrees.
"There's our first one," Roger had said upon seeing the man in shorts, revealing a sort of running bet the volunteers have as to how long it will take on winter days to see someone wearing shorts.
For those lucky visitors who take the time to stop and chat with the Bear Lake volunteers, they tap into a wealth of knowledge accumulated over many decades of life in and around Rocky Mountain National Park.
So if you plan to go to Bear Lake for the first time or the 40th time, stop in and ask a question of any of the volunteers who spend their days along the shore of this alpine beauty. You'll be sure to come away with excellent recommendations for visiting the park and likely a memorable experience as well.