"How did Bear Lake get its name?"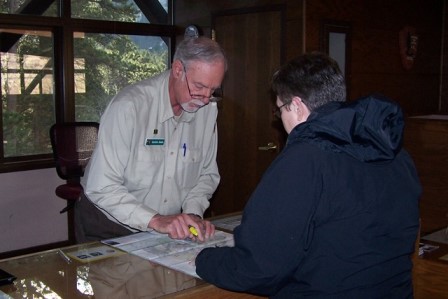 At Bear Lake in Rocky Mountain National Park, this is one of many common questions posed by visitors. Volunteer Gordon Seals is one of many volunteers answering these questions, though he might have a little fun with you before he answers the question.
"I told the visitor 'Because finding a parking place is such a bear,'" Gordon told me as we chatted in the Beaver Meadows Visitor Center.
Gordon is what you might call a career volunteer. After moving to Estes Park, Colorado in 2012 from Louisville, Kentucky, Gordon started volunteering in 2014 and hasn't stopped. 
"I wish I could go back and volunteer those first two years too. I mean look at my office," he says gesturing to a vista of Longs Peak and a half a dozen other peaks, wrapped in snow and foggy clouds.
This is Gordon's indoor season. During the summer Gordon can be found answering visitor questions at Bear Lake or in the park Information Office. But when the temperatures get colder he "gets out of the office" by working the front desk of the Beaver Meadows Visitor Center.
"I love the exchange of information," Gordon tells me after directing a visitor how to get their lifetime senior pass. "When a visitor comes off the trail, that's how I get my information about the park to pass on to visitors." Gordon especially enjoys talking to visitors who have planned out detailed trips and come back with photos and stories of climbing the park's peaks and sliding down its glaciers and snow fields.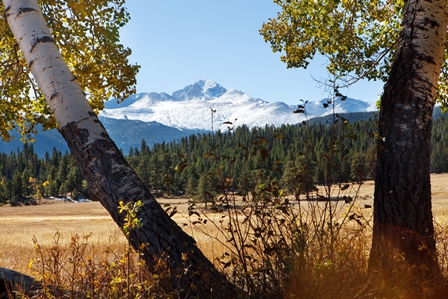 It is clear Gordon is doing more than collecting or giving information as he talks with visitors. With a lifetime of backpacking experience and a love for the national parks, each interaction is a chance for him to share the trip with these visitors, many of whom are making the trip of a lifetime.
"This is the best job I've ever had," Gordon says, as the windows behind him reveal the sun beginning to paint its daily sunset in the sky.
Oh, and just how did Bear Lake get its name?
"The story I heard from someone is that when people first started visiting, there were a lot of bears in the lake." Gordon chuckles as he answers. "But I'm not sure that's the answer I'd go with."