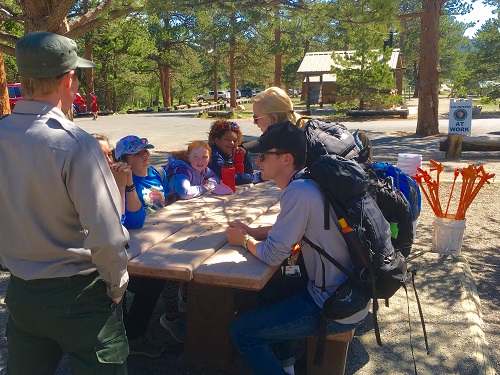 For many kids across America, summer means one thing- summer camp! Camps offer tons of fun activities, from  horseback riding to hiking to swimming; but at the YMCA of the Rockies, kids have another option-volunteering in  a national park.  Through the Department of the Interior's National Youth Initiative, the Play, Learn, Serve, Work  program was created in partnership with the YMCA.
 This program strives to improve outdoor education and get kids outside.  Because of its unique location right next  to Rocky Mountain National Park, the YMCA of the Rockies was chosen to be one of the pilot sites for the  program.  Through this initiative, day-campers receive weekly outdoor education training from the park's interpretive staff, become Jr. Rangers, and have the opportunity to volunteer with different divisions with Rocky Mountain National Park.
Day-campers are also given the chance to collect data for various citizen science projects, including Bugs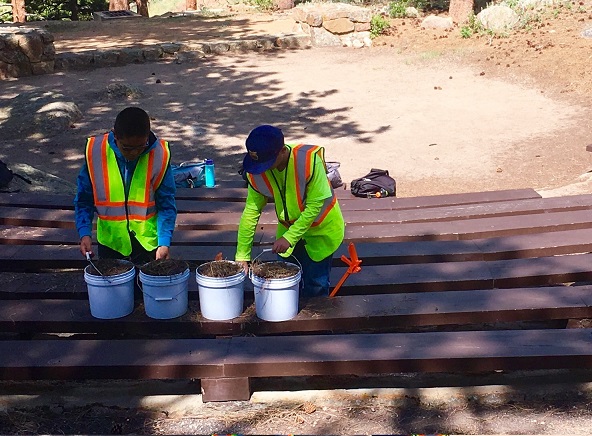 in Our Backyard, and Butterflies I've Seen.  For these projects the campers help to gather information on where insect species are seen, population density, and interactions between insects and host plants.  This information is then entered into a nation-wide database that is open to researchers and scientists.
This program has given campers the chance to not only get outside, but to also make a meaningful difference in Rocky Mountain National Park.  Already this year, the participants have collected 15 lbs. of trash from around the park, repaired and cleaned 30 fire-pits, cleaned the Moraine Park Discovery Center amphitheater, and removed musk thistle from several acres near the alluvial fan.  Thank you YMCA!
If you would like to learn more about volunteering or get involved, please visit:
https://www.nps.gov/romo/getinvolved/volunteer.htm