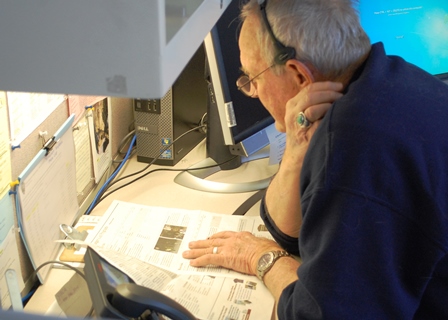 "Do you have possums at Rocky Mountain National Park and do they eat primrose?"
Most people might be confused to be asked this question. To the staff and volunteers in the Rocky Mountain National Park Information Office, a question like this is another chance to be helpful.
"Most people who call just don't know and hope we have the answer," says Katy Sykes, the ranger who oversees the Information Office.
Across the National Park Service, Rocky Mountain National Park is one of the few parks to have a dedicated, staffed information office. The volume and variety of inquiries easily justifies the efforts by Sykes and her staff of 28 volunteers.
"In 2016, we fielded over 60,000 calls," Sykes says, checking her call log sheet. "One weekend in September, we fielded over 1,000 calls in just two days."
"People call from all over the country and the world," says volunteer Jim Johnson. "Just today, I have already spoken to people from Missouri, Florida, and Texas."
Most visitors call the phone asking for trip planning information. This ranges from information on campsites, trail and road conditions, current weather, wildlife, and more. Visitors reaching out to the knowledgeable group in the Information Office are rarely disappointed.
"Some people have been in and around the park for twenty years," says Johnson, himself a volunteer who has worked in the Information Office for seven years. "All that knowledge comes in handy helping visitors trying to plan their visits." 
"We're here as a team," Sykes says.
This is especially true for the many visitors who have never visited a national park. Visitation in Rocky Mountain National Park has grown exponentially in the last few years and many of those visitors are new to exploring the National Park System. For each of these visitors, the Information Office staff attempts to match the information they give with the person inquiring.
"Sometimes it can be hard to communicate a particular concept," says Johnson. "Trying to tell someone in Germany checking the weather that it could be 70 degrees in Estes and be snowing at Bear Lake can be difficult if they don't know the mountains."
Other times the information requests are genuine, but impossible to answer.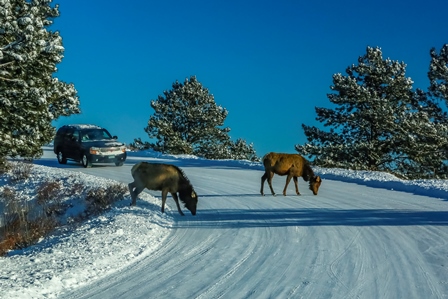 "We get lots of questions like 'Where will I see elk?' or 'Is there always a rainbow at Rainbow Curve?" says Sykes. "We need to listen to the question and figure out the correct information to provide, such as common areas to see wildlife. It's not always about directly answering the question."
In the winter, the volume of requests usually keeps Sykes and one or two volunteers per day busy. In the summer, it takes Sykes, a seasonal employee, and four volunteers each day to keep up. Yet in the face of so many calls, everyone in the information office is willing to take the time for each visitor.
"The lady inquiring about possums and primrose turned out to be writing a poem," seasonal ranger Alison White says. "I spent the next twenty-five minutes trying to help her pair animals and flowers in the park."
No matter the season, the dedicated staff of the Information Office are willing to help. Though they do request if you call asking how to get to the park, please know where you are.
"It's surprisingly common how many people call asking for directions and don't know where they are," Johnson laughs. "That can make it a bit hard to give directions to the park."