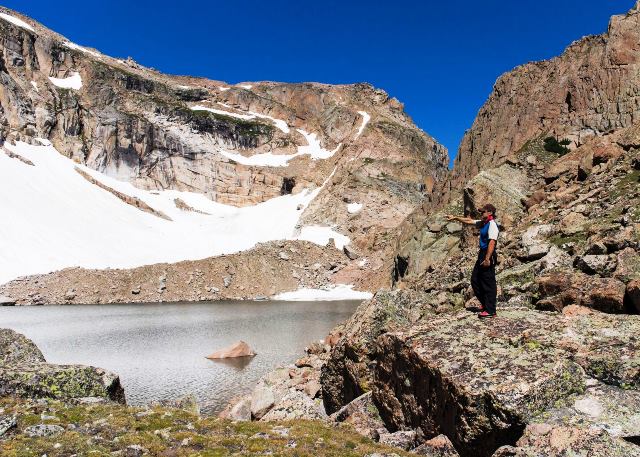 "There are some mule deer," I said, pointing out the window at a group of seven or eight standing in the snow.
"We need to count them," volunteer Kevin Zagorda told me, pointing to the line on the survey sheet marked mule deer.
The mule deer looked picturesque as they browsed through the snow. However, we actually hoped to see one of the largest animals in North America: Cervus Canadensis (more commonly called elk or wapiti). Every month, volunteers and staff at Rocky Mountain National Park join together to conduct an elk survey. This allows park biologists to monitor the health and status of elk herds ranging in and out of the park. 
At seven am on a Wednesday morning, Kevin and I joined about 20 other volunteers for a morning briefing by biological science technician Allie Konkowski. This was the second day of the survey, so Allie kept the briefing short. Soon, Kevin and I were out in a park vehicle, patrolling along Highway 66 keeping our eyes open for ungulates—specifically elk, but also moose and mule deer.
"Last time we couldn't get up some of these roads, even with 4-wheel-drive," Kevin said as we turned onto a snow and ice covered road, just south of the park headquarters complex.
As we drove, Kevin told me more about his volunteer experience. Retired from a career as a nuclear engineer, in the summer he joins with the scientific survey crew, assisting researchers coming into the park with their research projects.
"Usually that means being a mule to help move equipment," Kevin laughed. "But when you're out on a two- or three-day backpacking trip, you get plenty of time to talk to the researchers about their projects."
As snow flurries began to fall and with still no elk in sight, Kevin continued to tell stories. These included backpacking equipment into one of the gorges above the Loch Vale for an automated water quality testing station and identifying flowers for the fun of it with another volunteer, a self-trained botanist. During the summer of 2016, he assisted with a photographic survey of glaciers in Rocky Mountain National Park. This consisted of:
Hiking into the backcountry with cameras and GPS equipment
Choosing locations and taking GPS coordinates
Photographing the glaciers in such a way that future researchers can also photograph them, thus creating a profile of glacial growth or decline over time.
"We had a photo of the Andrews Glacier from about 75 years ago and were surprised how little it seemed to have changed," Kevin said as we turned up another road, still no elk in view.
Despite the appearance of little change, part of the purpose of the glacial survey is to document growth and shrinkage in glaciers over time to determine possible trends. As Kevin pointed out in the case of Andrews Glacier, it seemed to have changed little, though other survey evidence shows dramatic increase and decrease over the years.
With 32 mule deer on our count, but no elk, we turned back toward the park headquarters, our survey route complete. Although we did not see elk, several other groups brought back observations totaling several hundred animals.
"We'll see what we find tomorrow," Kevin said with a wave, walking away into the falling snow.
Each day for him is a chance to learn, with or without elk.