Community Weed Pull
If you're like me, the thought of pulling weeds takes you back to childhood, when you made wishes upon puffy white dandelions before exhaling a big breath of air to scatter their seeds all across your backyard (sorry Mom and Dad). However, this weekend I found out there is so much to learn about the pesky little plants that pop up through the soil year after year.
My day started off tagging along with Brian Kolokowsky and Mary Lane Poe from the Resource Stewardship division to meet up with members from the Estes Land Stewardship Association (ELSA) and community volunteers who were taking part in the annual event. Our task for the morning was to tackle the grassy area between High Drive and Moraine Ave. which is home to many native plants that are forced to share space with troublesome weeds.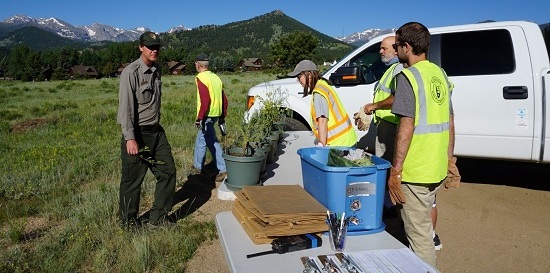 The Mason family learns how to identify eight different weeds that grow out in the field. Special thanks to Dave Schutz, ELSA member, for providing examples of each plant.  NPS Photo
After Brian introduced us to the various weeds to seek out, we were off! All of the volunteers got right down to business (some even brought their own gloves and tools) and began scouring the area. I, on the other hand, looked down and could not distinguish common mullein from cheatgrass for the life of me. Brian and Mary Lane stepped in to give a few pointers and help explain the terms used to identify weeds.
(1)"Exotic" weeds are not native to the area and may not be aggressive. However, if they are aggressive and a high priority management species, they are referred to as "invasive."
(2)Weeds that have the potential to take over native vegetation and are extremely invasive are called "noxious."
(3)Some weeds spread underground through their roots, while others pollenate the land by dispersing their seeds with the help of wind;some weeds can even do both!

(4)Although a weed may look dead, it is possible that it will come back again the following season or that it is waiting for its seeds to detach. Pulling a weed whose seeds have already dropped may not always be beneficial in preventing new growth.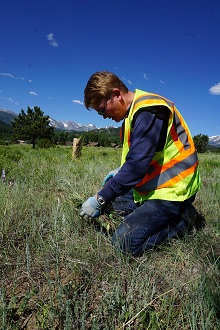 I have no shame (maybe a little) in admitting that all of the volunteers who attended the event know a lot more about weed-pulling than I do. Liz, Phil, James and Joseph Mason made it a family affair when they drove an hour from Fort Collins to spend their Saturday morning in the park. When I asked Liz why they decided to come out to help, she said that her husband, Phil, heard about the opportunity at work and figured it would be a great experience. Although it was the Mason's first time at the annual community weed pull, they are no strangers to wildlife and vegetation upkeep. "We love our gardens," Liz said, and proceeded to tell me that the family has chickens and bees at home and enjoys making honey and jam during the summertime.
Another volunteer, who is anything but a rookie, came out to lend a hand along with herexpertise. Hattie Schetzsle, whose husband is the former deputy superintendent at RMNP, joined us for her fourth time at the weed pull event. I asked Hattie what makes her interested in helping and how she knows so much about exotic plants and she responded enthusiastically with, "Someone has got to do it and I do a lot of weed pulling!" Montana is where Hattie got her start pulling knapweed and she now devotes many hours working on her land and making her way out past property lines. Every time I was unsure about whether I was about to uproot a native plant or an exotic weed, Hattie made sure the coast was clear.
It is safe to say that we could not have accomplished as much as we did in those few hours without the help of all the volunteers who came out. The paper bags we filled will be taken to Glacier Basin where they will turn to ash in the air curtain burner that keeps smoke and fumes contained to protect our park.
As for me, I have our knowledgeable volunteers to thank for their time, positivity and the urge I had to pull the horary alyssum I spotted on my walk home that day.