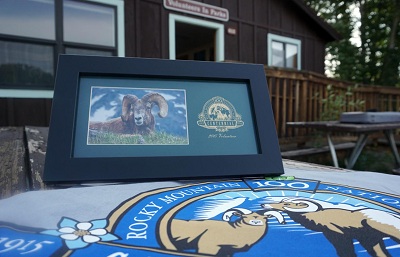 One of my main duties this summer was to help plan and execute the annual volunteer appreciation dinner, where newcomers, seasonals, locals and even volunteers who have served since the 1970s come to enjoy an evening dedicated to them. This special event recognizes the hard work served by volunteers and could not be put on without the help of the Rocky Mountain Conservancy.
When I arrived in June, Lindsey Lewis, Volunteer Program Manager, had already accomplished most of the planning for the event and she was excited to make this the most successful VIP appreciation dinner to date. Throughout the two months leading up to the event, everyone in the VIP office (and the park!) seemed to have one of the busiest seasons on record. While Mary Lane (Volunteer Coordinator for Resources) gathered up all the supplies needed at the event, Lindsey was compiling data and volunteer hours. While I snapped photos of our volunteers at work, Stacy Nigon (Volunteer Coordinator for Resources) and Ashalou Harrison (Seasonal Ranger) were driving down to Denver to pick up 400 lbs of boxes that were almost lost in the shipping process. There were hundreds of moving parts that had to fit together just right to make sure this event went off without a hitch, but by August 18 we were ready to hit the pedal to the metal.
We arrived to the venue in the early afternoon to set up;thanks to the extra hands lent from park staff, many of whom supervise or work with volunteers on a daily basis, everything was ready to go an hour before the VIP VIP's arrived. Other than some projector focus adjustments and setting up a few more tables and chairs, everything went perfectly smooth. The night began with the volunteers receiving their gifts, mingling with each other and getting their pictures taken in the photo booth before dinner was served.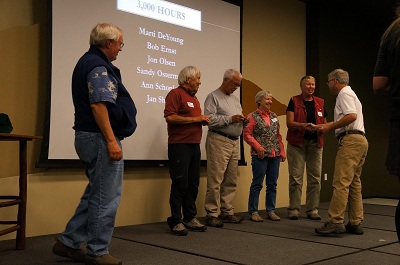 We ate barbecue and indulged in side dishes brought by the volunteers, which was topped off with lemonade, coffee and cake. Once our appetites were subdued, the presentations began and the volunteers were acknowledged for their many hours of dedication to Rocky. In fact, we have had 1,860 volunteers serve 108,000 hours last fiscal year, which is equivalent to nearly $2.5 million in service to the park.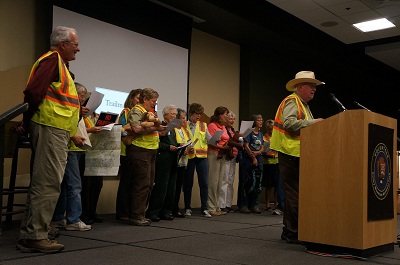 The evening continued with skits and songs performed by the volunteers, an "in memoriam" video to honor the VIP's who passed away this year, and a slideshow of photos representing our many volunteer groups. It was so much fun to see the event come together and to recognize the volunteers for all of their hard work. A special thanks goes out to the 40+ staff members who volunteered their time before, after and during the event!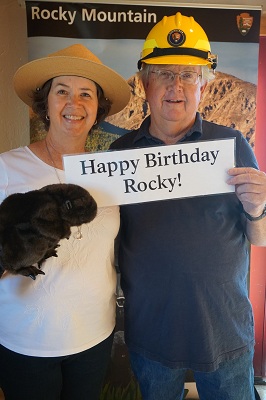 On Friday, August 21, Lindsey and I drove over to the Colorado River District (CRD) side of the park to attend and help out at the "west side" volunteer appreciation dinner. After meeting and taking photo booth pictures of some of the wonderful west side VIPs, I filled up on a delicious dinner and cake once again and settled in for the recognition presentations.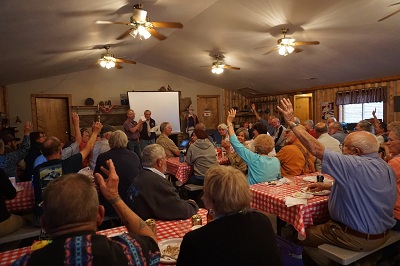 Many thanks were given to the CRD VIPs by appreciative supervisors and park management, including Vaughn Baker, Rich Fedorchak, Mark McCutcheon and Michele Simmons, just to name a few. It was evident that so many park employees think very highly of the VIPs who donate their time to Rocky.
Around 50 percent of the CRD volunteers take on multiple roles and support different work groups, such as Holzwarth Historic Site operations and interpretation, Kawuneeche Visitor Center desk, maintenance projects and many others. Sara Straub, CRD Volunteer Coordinator, praised the volunteers for "picking up extra shifts, offering flexibility, learning new jobs, helping train new people mid-season and going above &beyond to not only get by, but to thrive in this challenging Centennial season."
Every single time I think about the diversity of our volunteers, their projects and their knowledge base, I am downright inspired. Their eagerness to help the park in any way possible and willingness to step up to the plate when positions need filled is truly incredible. The volunteer appreciation dinners are a special way to recognize our volunteers, but we want them to know that we are thankful every single day for their unending dedication to Rocky.