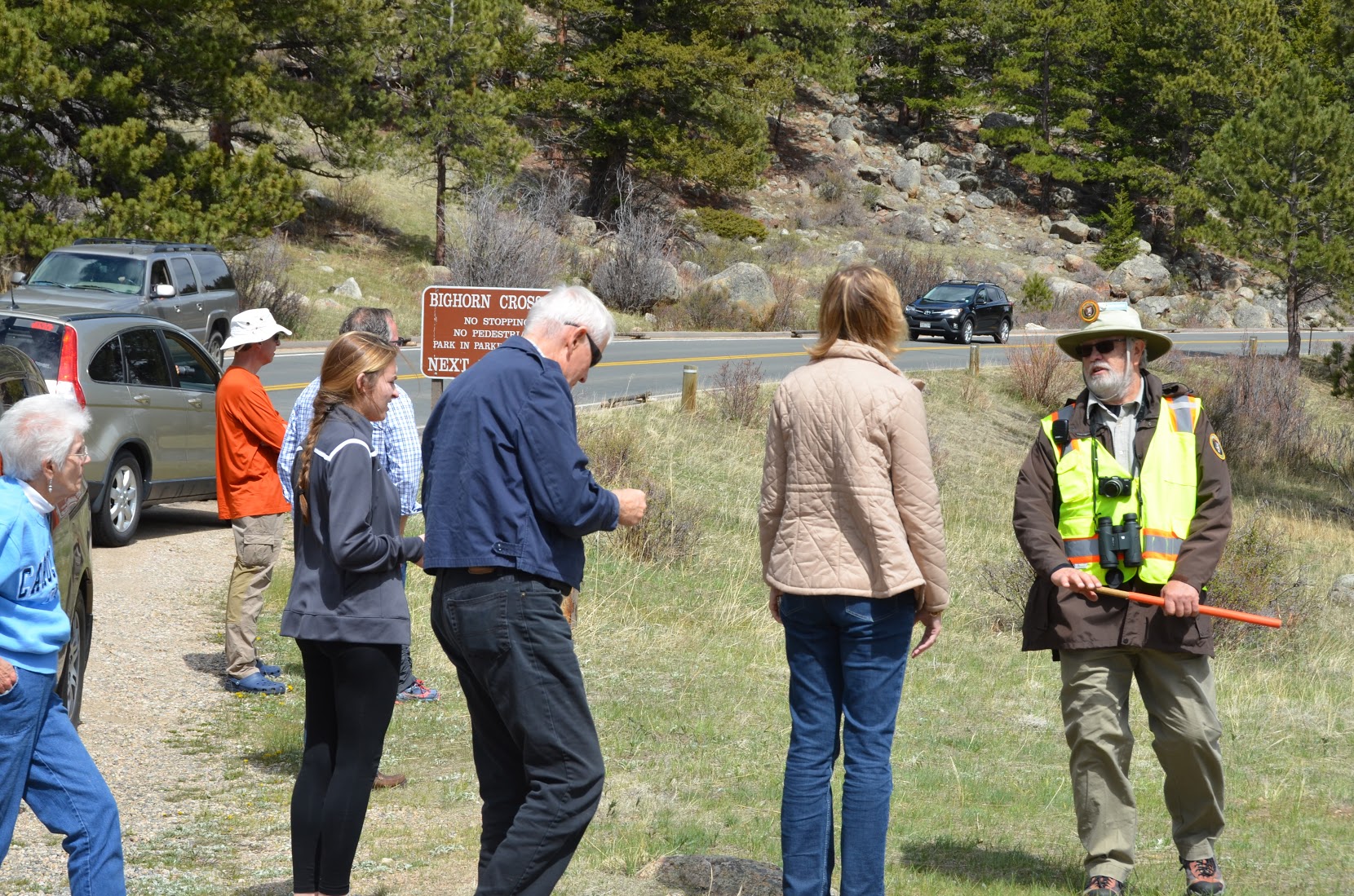 One of the great things about this park is the excitement that comes from never  really knowing exactly what you might see around the next corner or just over  the next hill….it could be an elk, a marmot, or of course you can visit  Sheep  Lakes to see a….Moose!
 I had stopped by to see the Bighorn Brigade in action and almost immediately we  had visitors running up to us to report that two moose were in Lake #2! Anytime  an iconic animal like a moose is spotted, average people like you and me grab  our cameras stop our cars and generally think of nothing else except getting the  perfect moose picture.While we are taking out our selfie-sticks, the Bighorn  Brigade is springing into action…
 Volunteers stationed at sheep lakes spend a good portion of their day, answering  questions about sheep, helping with question s about the park, and just making visitors feel welcome.However, anytime a sheep (or in this case, a moose) is spotted, the VIPs help with traffic control, keep visitors a safe distance away from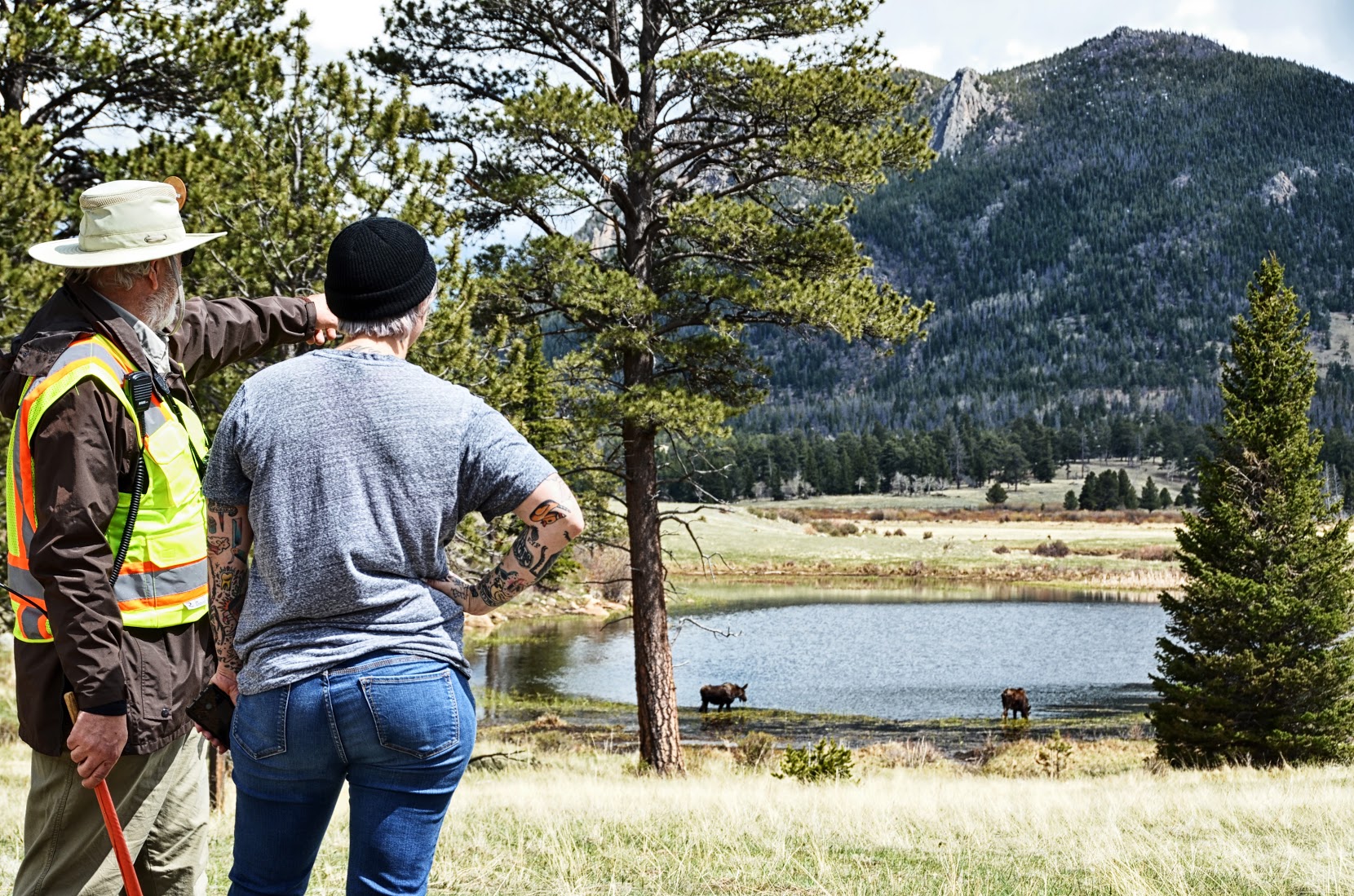 the animal, and make sure that the sheep (or moose, or elk, or whatever) is able to cross roads safely.
When the moose showed up Steve and Cheryl (the VIPs at Sheep Lakes that day) answered questions about moose, warned visitors of their unpredictable behavior, and kept vehicles from stopping in the middle of Fall River Road.It was pretty impressive seeing their ability to manage an excited crowd of this many people.
The real excitement, however, came when the moose decided to leave Sheep Lakes and head back to wherever they came from.In the blink of an eye the moose went from contentedly munching water plants to charging full-speed toward the protection of some nearby willows.What could have been a very dangerous situation was handled smoothly, and VIP Steve helped clear a path for the charging moose.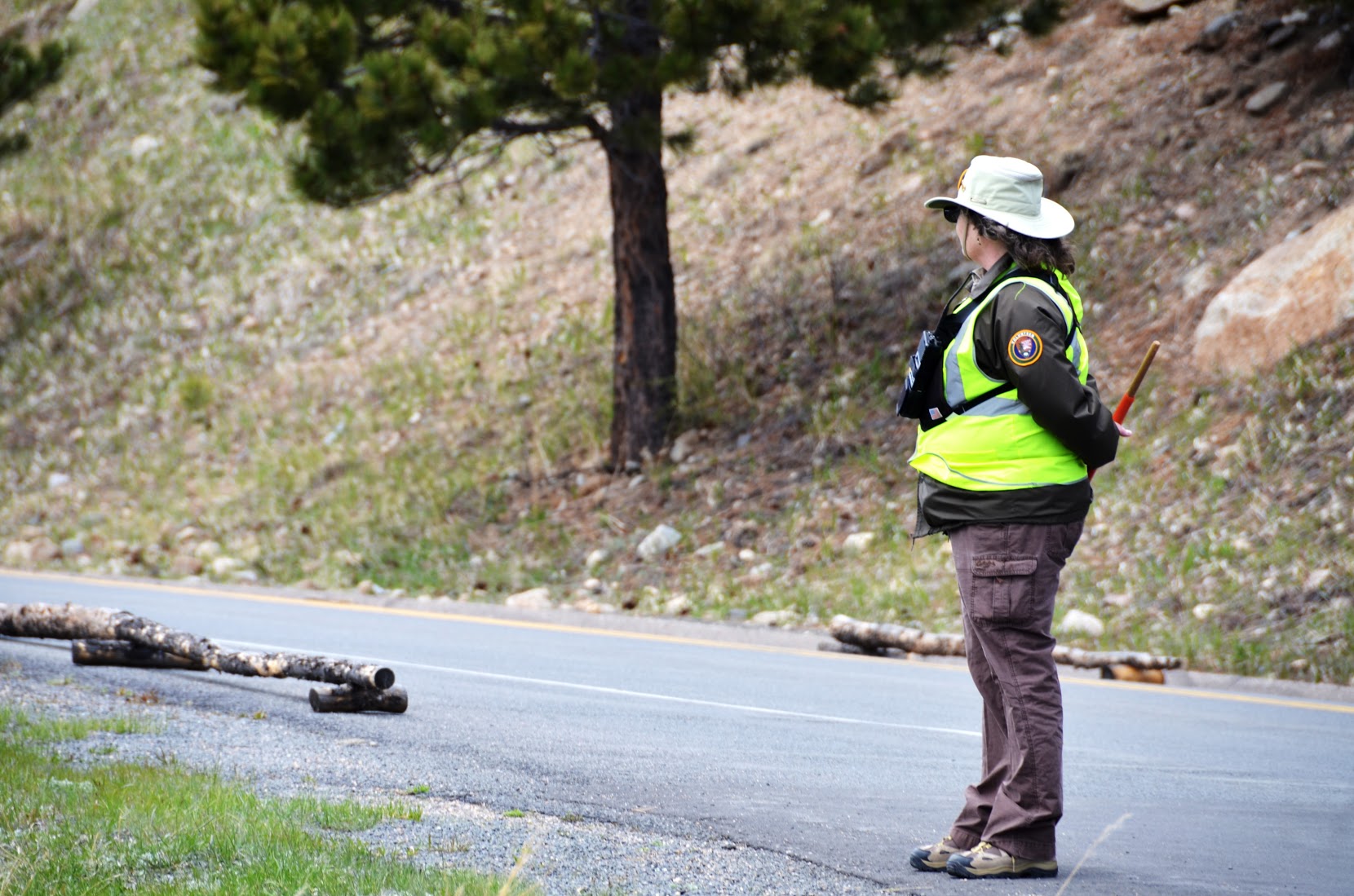 If all that is exciting enough for you then by all means stop reading now…  otherwise…bring on the bighorns! While the moose were splashing about in the  lake a group of bighorn rams had been spotted near the Alluvial Fan.VIP Dennis  was on scene, kept people at a safe distance, answered questions, and helped  explain to visitors the difference between sheep and goats.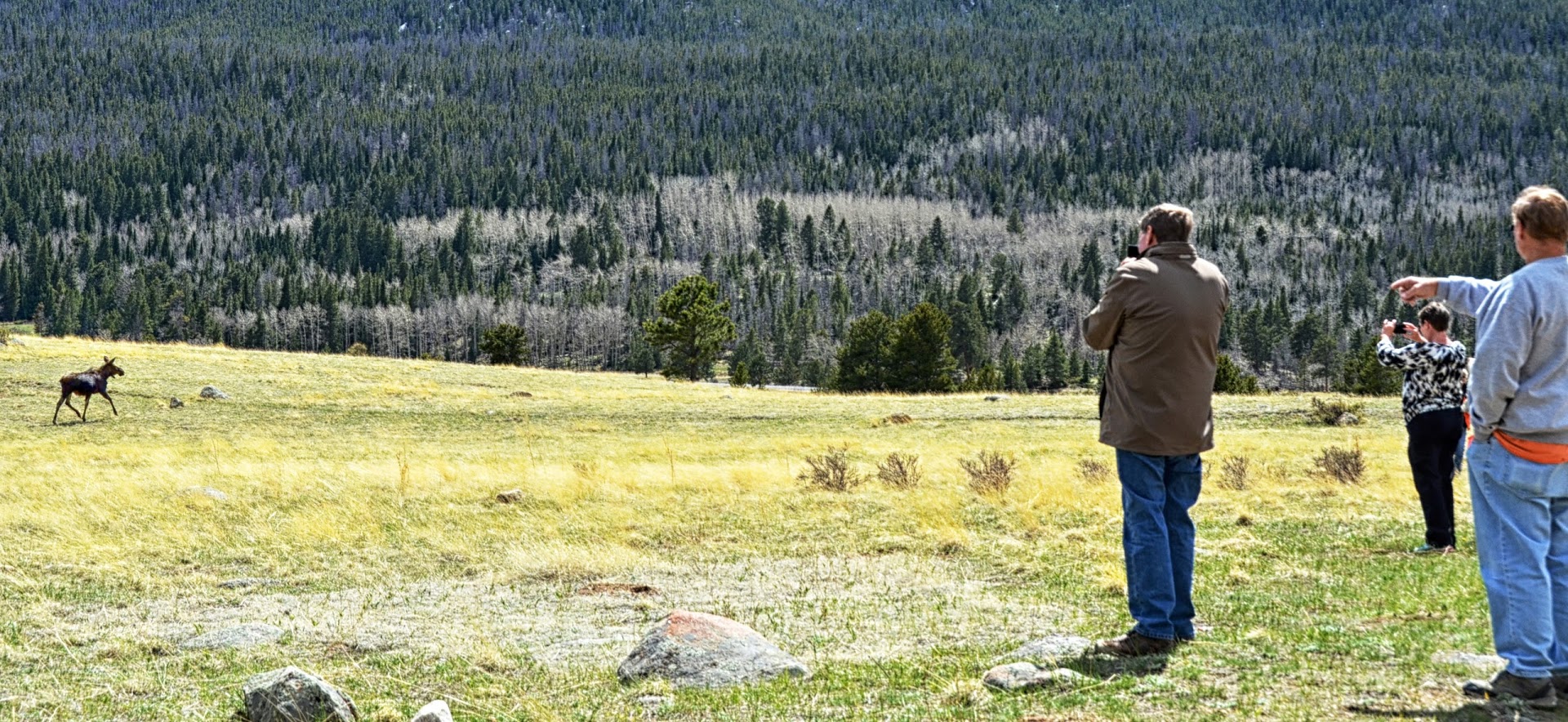 Visitors watch as a moose passes safely by.
The final question: Why Sheep Lakes? Why do the bighorns like this area?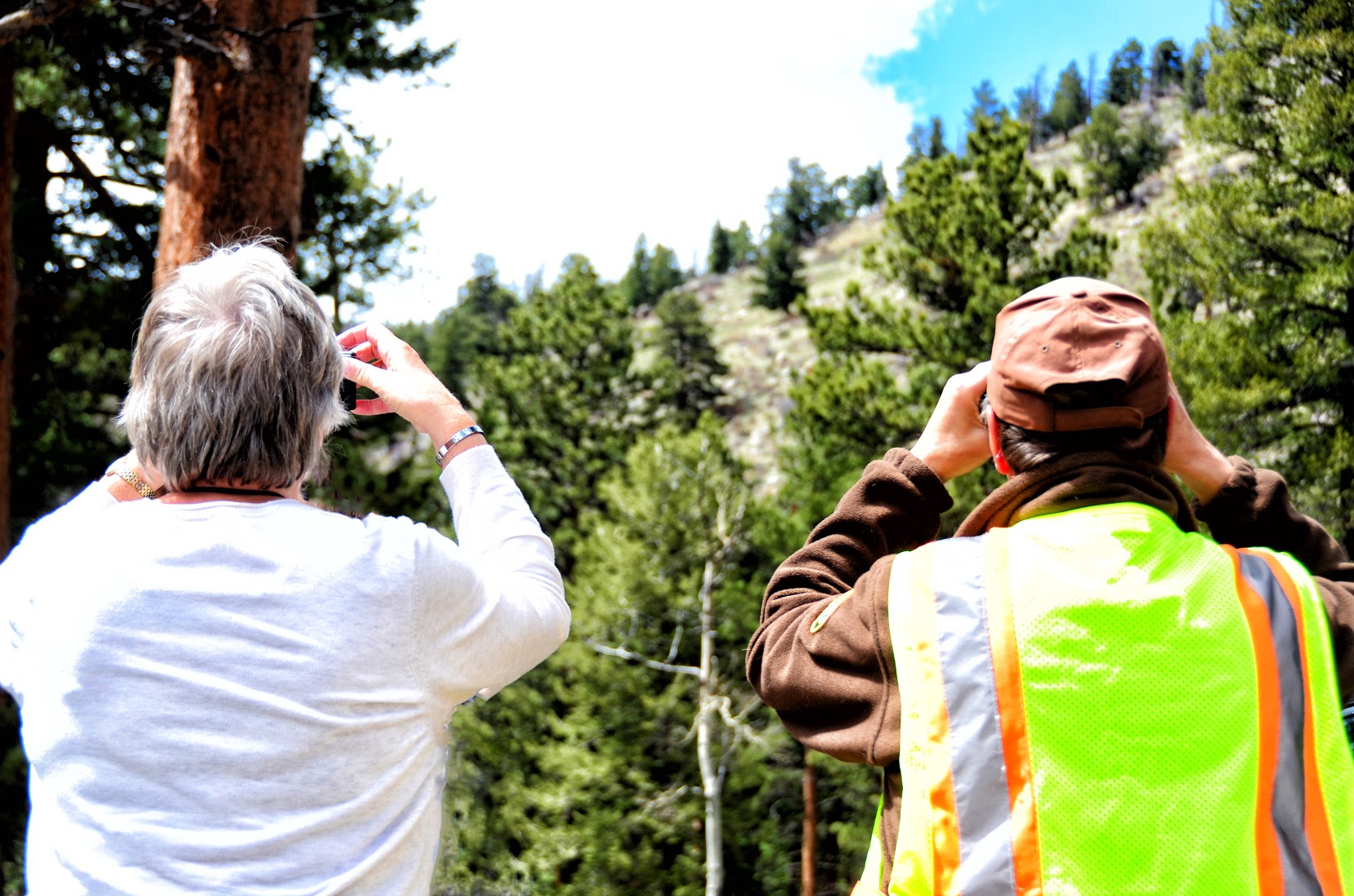 It's all about the nutrients.When glaciers carved out these kettle lakes they also  left behind important nutrients.These minerals bring the sheep down from the  safety of the hills, and are especially important for nursing mothers.