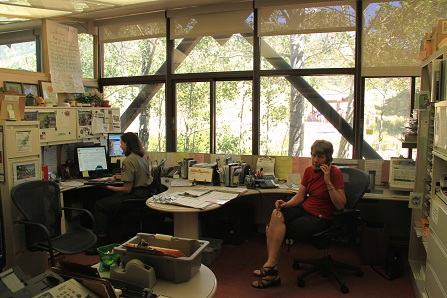 You may be surprised to find out that the published phone number for Rocky doesn't lead to a dark spiral of automated voices and call menus. As one of the few parks where the manpower is available for such a task, a call to the park's official number lands you a conversation with a real, live human. Volunteers and full-time employees in the Information Office answer all phone calls between 8-4:30, every day, seven days a week (except Christmas and Thanksgiving). I spent one day this week in the bustling info office, nestled in the Beaver Meadows Visitor Center, where callers are often surprised, and appreciative, when a human answers the phone. With 200-300 calls a day this time of year, and 40-50 thousand inquiries ever year, the work that is accomplished here is fast-paced. Volunteers are a necessary component to handle that volume of contacts, and for many visitors, the Information Office is the first contact they have with park employees.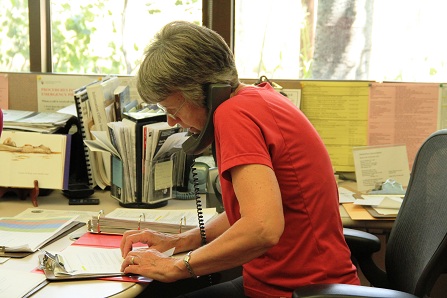 Every Wednesday morning, Karen Daugherty, or her husband Jim, fills a spot in the morning shift. They have been volunteering together in the Info Office since 2010. Their duties span an incredible range, from trail reports to campground information and reservations, to inquiries about ranger-led programs and winter activities in the park. The staff here is expected to be knowledgeable and well-adapted to the huge span of requests.
Each volunteer and employee contributes a unique background that can be used to supplement the wealth of knowledge in the office. Karen is an avid hiker, which makes her well-equipped to answer trail condition questions. Other volunteers are birders, flower identifiers, or wildlife buffs. Still, there is a huge learning curve. Karen remembers answering the phone on her first day in the office with a feeling of terror at the prospect of being unable to help. Even after four years, there are still difficult questions. Those who work here can never utter the words "I think," or "I guess." Everything must be factual, and for somebody new to the office, finding the needed information often involves asking coworkers. While in the office, I watched as all three employees constantly consulted with one another, referenced a wide variety of books, binders, and packets, all while remaining polite and upbeat on the phone.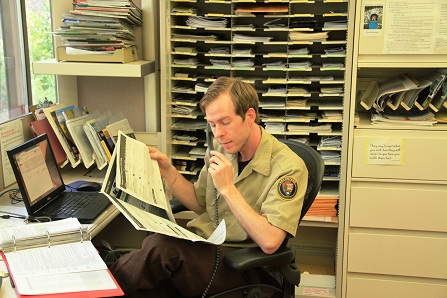 In the afternoon, Drew Campbell took over for Karen. He joined the Info Office team about three months ago and quickly learned that the most important part of this job is not knowing everything, but rather knowing how to efficiently consult the resources available. With a bachelor's in marketing and a master's in natural resource management, Drew is using his skill set in the hopes that he will be able to continue working for the park service. He has interned with the NPS previously, and participated in a project that won an award for the best interpretive media project of the year for his work on a virtual tour of Acadia, including a 360-degree interactive panoramic photograph. Drew finds this volunteer position to be a perfect way to learn about the park and get his foot in the door for employment at Rocky in the future.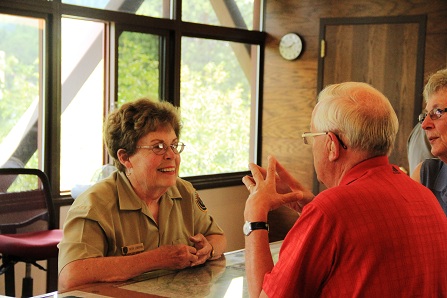 At the end of my day in the Info Office, I ventured out to the Beaver Meadows Visitor Center entrance to speak with Betsy Leverton during a rare moment of downtime. She has been volunteering for 16 years at Rocky, including Sheep Lakes, Elk Bugle Corps, the Fall River Visitor Center, the Info Office, with the Sled Dog Team, and as a Chowbuster. Betsy and her husband Roger also help run the Artist-in-Residence program, and have been a part of that for the past twelve years. I talked to her about her reasoning behind volunteering for the park, and she described it as a "dream come true," and an opportunity to "pay the national park back." She also told me, and I have to agree, that Rocky is "a happy place; a nice park," and a huge part of that atmosphere comes from these volunteers, who greet visitors over the phone and in person with an infectious kindness and a genuine eagerness to help.