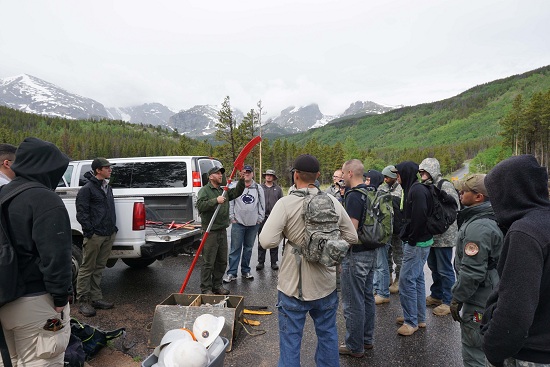 Dave Patrick demonstrates how to effectively use a pole saw before heading out on Storm Pass trail.   NPS Photo   
A very big and  important piece of  the Volunteers in  Parks program is our  group volunteers  who work with Park  staff and volunteer  supervisors to  complete projects  throughout Rocky.  During my first week  as the VIP Intern, I  was able to spend  some time with two  very special  volunteer groups.
On Tuesday, Dave  Patrick and Zack  Petrie, members of  the Trail Crew, lead active duty Navy and Army volunteers from Buckley Air Force Base in Aurora, CO on a brushing project through Storm Pass Trail. Before they began the trail maintenance, Dave gave them a run-down of the project and a key rule to abide by. "Safety is our first priority and good communication will help us accomplish that."
From the very beginning it was clear that these men would stand by Dave's instruction with ease. As they used sharp tools, like hand saws, loppers and pull saws, to clear away branches and overgrown plants from the trail, the frequent "Look out!" and "This one's about to come down!" could be heard before the falling of a hefty branch. There were even a few times I caught the soldiers and sailors teaming up to take down a pine branch that would otherwise be in the way of hikers and visitors riding horseback.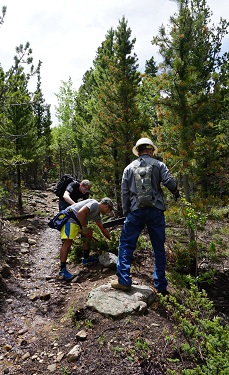 The effortless teamwork and camaraderie between these men was  evident during the short day I had with them. As I got to know them  better, I found out that they are Active Duty Military to include Navy,  Army and Air Force stationed at Buckley Air Force Base who spend  most of their days working desk jobs at a computer. In fact, after their  two days of volunteer work (they built burn piles with the Fire Crew the  day before), they drove back home to prepare for 12 hour work shifts  for the next four days!
 Before their volunteer outing, only two of the men had been out to  Rocky before, so the occasional stop to take in the beautiful views or  capture a panoramic photo was definitely necessary. However, their  many hours of hard work and appreciation for the opportunity to  volunteer were really incredible to witness. I have a feeling we'll be  seeing them back in our Park again soon!
 The following day I worked with a volunteer group that is more than  familiar with the Park. For the third year, retired smokejumpers from the  National Smokejumper Association gave a week of their time to  volunteer at Rocky. As part of their mission statement, these men are   dedicated to "…maintaining and restoring our nation's forest resources…" and they are definitely living up to that duty.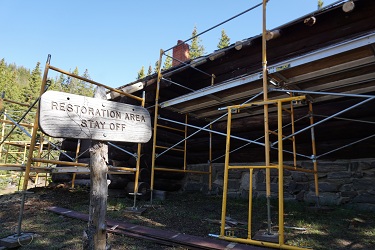 Under the leadership of Chuck Tubb and Bob Maitland from Project Administration, the help of Park staff Bryce Klinikowski and seasoned volunteer Bill Peterson, the retired smokejumpers worked on preserving a historical cabin near Lake Irene on the west side of the Park. The ends of the logs holding up the roof had begun to rot and needed to be re-capped. In two days the volunteers were able to replace and paint more than 40 logs, which is a big help in preserving its original look. The next steps include replacing the shingled-roof and restoring the inside of the 1920's cabin.

Like the Army/Navy group from  the previous day it was easy to  see the strong comradeship  between these men. T
hroughout the day they  shared their stories, jokes and  food and didn't forget to give  each other hard time. Although  all of the men come from 
different backgrounds, I found a former lawyer, doctor, photographer and a carpenter in the group, they have smoke jumping (and a great sense of humor) as a unifying bond. Their commitment to our Park and to one another is something I hope to see continue for many years to come.