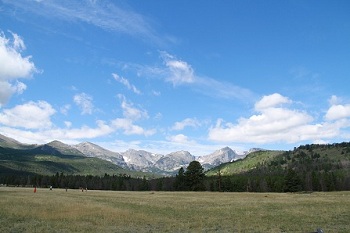 Campground hosts may well be the most outgoing group at Rocky. This trait is critical for a position that requires constant interaction with visitors from all over the country and the globe. As I spoke to each host, they cited human interaction as their favorite aspect of the job, which makes this a perfect fit for the volunteers who have chosen to fill the role. An overwhelmingly welcoming, pleasant, and well-spoken bunch, they entrusted me with an assortment of fascinating and inspirational personal and job-related stories acquired throughout their time at Rocky.  

Donnine and Ron Ballance are in the midst of their 3rd year at Timber Creek Campground on the west side. They share a love of the outdoors, and summers in the Rockies allow them a relief from the heat of Texas summers. As a biology teacher for 32 years, Ron utilizes his background to talk to and educate campers from all over the world. Because there is so much wildlife on the west side, Donnine and Ron spend a considerable amount of time emphasizing to visitors the importance of exercising respect for the animals, especially elk and moose, who feed on the charcoal in campground fire pits in an attempt to access needed nutrients. The Timber Creek campground has unfortunately lost most of its trees to the pine beetle infestation, so the hosts are often asked to explain to returning visitors why the campground looks so different from ten or fifteen years ago. I watched as both Donnine and Ron patiently and expertly answered campers' questions, made them feel at ease, and effortlessly engaged visitors of all ages.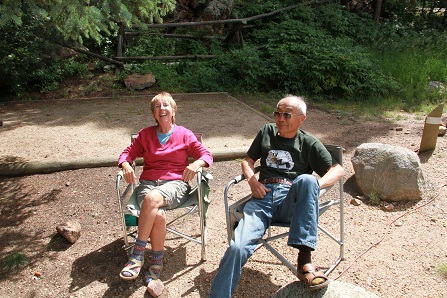 Back on the east side, at the Aspenglen campground, Jackie and Kaz Hada have been working as hosts on and off for 7 years. As nomads living in their RV for the last twelve years, they have traveled all over the country, working for state parks in Alaska, Florida, Colorado, and New York. They have served in the National Teacher Corps, volunteered on trips with Habitat for Humanity, been foster parents to six children, and worked with the Red Cross to assist with relief from hurricanes Ike and Katrina. The Hada's are a peaceful and happy duo, which translates well to their work in the campground. As I talked to them about their observations of campers as a whole, Kaz told me that he feels "campers are a different breed…they're very honest," which results in well-respected and maintained campsites.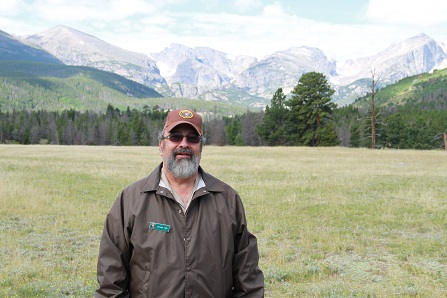 Winding my way back towards the Beaver Meadows entrance station, I encountered Jerome Vigil, who grew up in the mountains of northern New Mexico and was drawn to Colorado thirty years ago for its similar geography. This is his seventh year as a host at Glacier Basin, and similar to the hosts at Timber Creek, Jerome answers quite a few questions regarding the noticeable absence of pine trees at the campground. For many who find the loss of pines to be disheartening, Jerome explained to me that he chooses to highlight how well the aspens are doing in an effort to balance the good with the bad.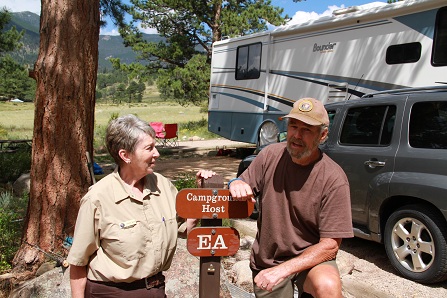 For my final campground stop, I spoke with Jim and Sharon Snider, whose time at Rocky began when they were the very first to ever work as campground hosts at Longs Peak. Today, they are one of three sets of hosts at Moraine Park. Jim spent many years chaperoning high school geology field studies that would wind their way out to Colorado from Ohio, and he remembers falling in love with the mountains. After retiring from his job as an elected official, he and Sharon moved to Rocky, which would become their summer home for 13 years. Jim has had to chase quite a few bears out of the campground over the years, and during the upcoming elk rut, this couple will frequently be talking to visitors about elk mating habits. A few common sentiments emerged throughout the day as I spoke with all of these incredible campground hosts. This group of volunteers is a little bit of everything: they interact and assist with Law Enforcement issues, Interpretation Ranger programs, Search and Rescue operations, and as Jerome put it, the campground hosts are often the "the eyes and ears for rangers and ambassadors for the park." Everyone I interacted with wanted to emphasize that the job of a host is perfect for them, and that they will continue to return to for as long as they are able, a fact that not only benefits each campground individually, but also Rocky as a whole.