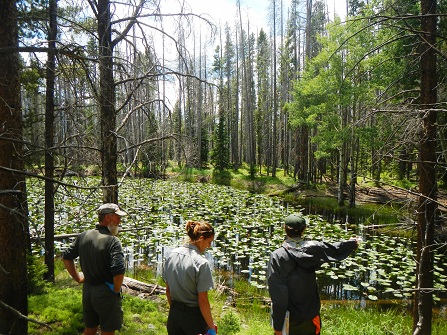 Tadpoles, frogs, and toads, oh my! This week I had the chance to venture out with the resource stewardship's wildlife team to help with a boreal toad count. These toads, among a number of other amphibians, are threatened by the amphibian chytrid fungus called batrachochytrium dendrobatidis (try saying that five times fast!). When infected with the fungus, the amphibians' skin changes and they are rendered unable to absorb needed water and nutrients. In an effort to combat this widespread toad killer, the park has reintroduced a total of 34,000 hatchery-reared boreal toad tadpoles over the past seven years. Each year, members of the wildlife crew monitor how many toads survive through the various stages of life: from tadpole to toadlets (newly metamorphosed toads), sub-adults, and eventually adult toads.
I met with two biological technicians, Joe and Molly, and one volunteer, Fred, at headquarters in the morning, where we loaded up the necessary equipment, and headed up and off the Red Mountain Trail to our first site. To ensure that we did not cause the fungus to spread across sites, prior to hiking in, we sprayed our boots with a bleach mixture, and upon arrival at the pond we changed into booties that have only been, and will only be, used in that area. Throughout the day, we wore disposable gloves, and changed into a new pair each time an amphibian was handled.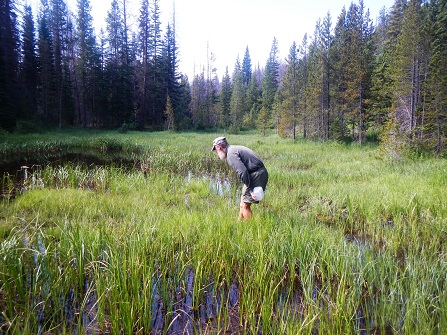 Fred Renner, an incredibly high-spirited and energetic volunteer, has participated in various Rocky Mountain wildlife projects for the past four years, including this toad survey. After moving from Pennsylvania to Colorado to attend college at Colorado State University, he decided to stay out west and eventually worked his way up to a job as the Big Thompson Water Commissioner. His familiarity with Rocky, and this project in particular, was immediately evident as he bounded off-trail from site to site with ease. Over his years in the park, he has worked on projects with bighorn sheep and elk in addition to helping out with the toads. "Why did you volunteer with this group specifically?" I asked, and his answer was beautifully straightforward: "the hiking." He comes out with this crew every Monday and Tuesday and Molly, one of the biological technicians, told me that Fred hiked a 16-mile trek last week with no issues! He is certainly an inspiration; it was incredible to see someone who has had a full career emerge with the energy to continue participating so actively in what he loves. In addition to the long hikes, Fred told me he has a fun time with plant identification when out in the field, and enjoys the opportunity to spend time with the young wildlife scientists and biological technicians, from whom he learns a lot.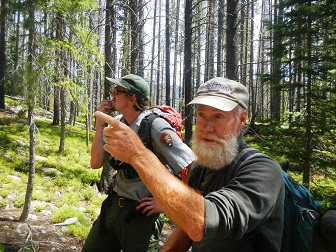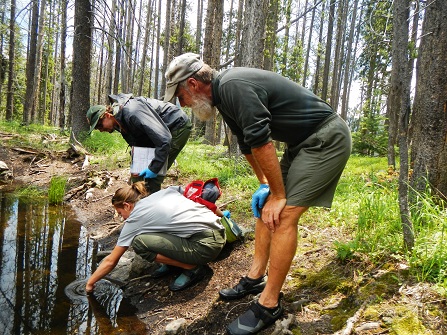 We found four boreal toads at our first site (no easy task considering their size of about three inches), and confirmed that they were ones that had been previously tagged with a visible implant elastomer (VIE). This non-harmful silicone-based material is injected into the toads and can be detected under fluorescent light. Considering the large number of tadpoles that have been reintroduced, it is somewhat a mystery as to where many of them are. It is possible that very few are surviving, but in addition, once they metamorphose, they are no longer dependent solely on the pond's resources. It can be difficult to track them as they move, sometimes several miles, throughout the forest.
As the afternoon storms rolled in, we headed back to our vehicle. Spending the day with this group was a unique learning experience for me, and gave me a greater appreciation for our park's little amphibian inhabitants, as well as the hard work dedicated to maintaining their survival in the midst of this threatening fungus.