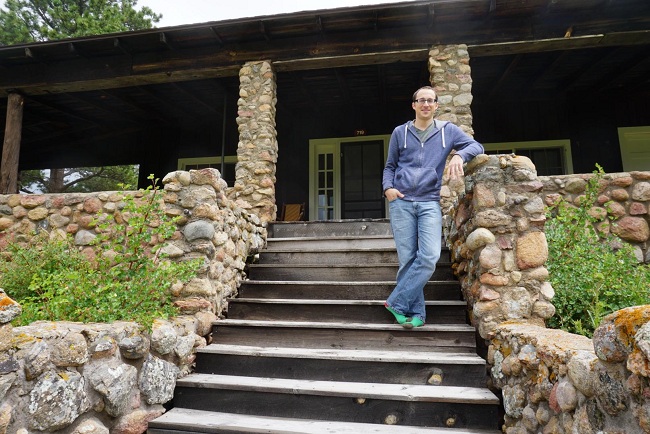 The Artist-in-Residence Program at Rocky Mountain National Park is a long-standing tradition that offers professional artists of all mediums the "opportunity to pursue their artistic discipline while being surrounded by the park's inspiring landscape." After the competitive selection process, six volunteer artists, who stay in the park at different times throughout the summer, were chosen to represent the arts that have helped bring the NPS to life.
Because 2015 is Rocky's centennial year, the park is hosting residents who symbolize the past, present and future of art in the park. Cue Cory Hills, a percussive storyteller who became a household name at Rocky after his residency in 2008 and the first artist to be selected for a second time, representing the past.
At the beginning of Cory's second week here I was able to snag a few hours of his time and make my way out to the historic William Allen White cabin, which is not open to the public and has a bathtub instead of a shower (awesome!). White was a famous American editor and author, known for his journalistic influence at the Emporia Gazette, a Kansas newspaper still in print today. His summer retreat was restored and has been home to Rocky's artists in the residence program since 1984.
When I sat down at the big wooden dining table that held paper notes, scribbled ideas and a laptop playing quiet music, I was nervous that my not-so-musically-inclined self was going to ask an embarrassing question. I may have made a fool out of myself, but I will never know because Cory was so relaxed and laidback. In fact, he jokingly mentioned that his claim to fame is being a member of a Grammy-nominated percussion quartet and recording the drum music for Survivor.
Cory has been all over the world, studying performance art in Australia and creating the idea of percussive storytelling after living with a Senegalese "griot," or African storyteller, while attending Instituto Fabrica in Italy. In fact, he wrote his award-winning piece, The Lost Bicycle, while studying there. Cory enjoyed reminiscing on his time abroad and told me that going overseas "changed everything."
When he started his doctorate program at the University of Kansas he kept his head down and focused on developing percussive storytelling into a national program. With help from a private donor, Cory was able to travel around to elementary schools in Kansas to perform his stories in libraries and at assemblies. Now, after more than 400 performances, he has presented his "digestible stories with complex music" to more than 40,000 children in eight different countries.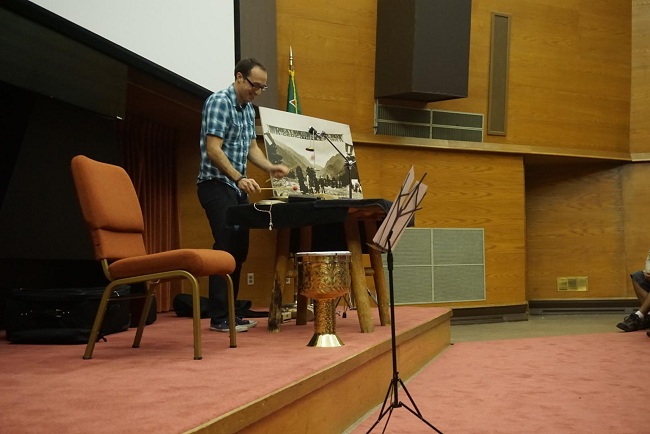 On the evening of July 8, I attended one of Cory's performances in the Beaver Meadows Visitor Center. As part of the Artist-In-Residence program, the artists get to present two 45-minute public programs about their artform and experience at Rocky. Cory had the packed crowd of vacationers, locals and park staff engaged, laughing and participating right off the bat. Toward the end of his presentation he performed a piece he created during his stay, that he will record using all wooden percussion instruments and donate to the park, about two animals that become friends at the keyhole of Longs Peak.
Many different inspirations help Cory create his art, such as straightforward suggestions from the children in his audiences and the fascinating questions they ask after he performs. While he was here, however, he was influenced by the sights and sounds of wildlife outside of the cabin and the Arapahoe and Ute American Indian names of different areas around the park. "I've been enjoying just having time to myself, to think and get stuff done in the silence of the cabin," he told me.
As Cory continues to spread the art of percussive storytelling, as well as expanding his musical abilities into academic research fields and educational outlets, we are thankful to have the opportunity to host volunteers like him through the Artist-In-Residence program. We can't wait to see what kinds of art the park will inspire for the next 100 years.