National Park Rx Day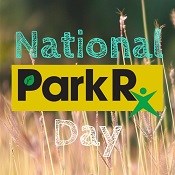 Join the National Park Service for healthy outdoor fun on National Park Rx Day!
When: Saturday, April 28 2018, from 12 p.m. to 4 p.m.
Where: Fort Circle Parks - 5161 South Dakota Ave NE, Washington, DC 20017
Food and concessions will be on sale courtesy of Guest Services, Inc. Bring your whole family, furry family members included (provided they are on-leash)!
We are offering a variety of fun activities that connect your backyard park to easy, healthy lifestyle choices you can make:
Learn about composting urban gardening for healthy fruits and vegetables-kids can plant and take home their own bean sprout!
Talk with a healthcare provider about health concerns; get a free health screening.
Play pick-up soccer, frisbee, football and more with park rangers and volunteers.
Learn about small animals that live in your neighborhood-check out small animal pelts and artifacts with Latino Outdoors.
Come check out the D.C. Parks and Recreation climbing wall and mobile fun unit.
Scheduled Programs
Historic Fort Totten Walk
Take a historic and educational walk with park rangers to Fort Totten, a historic defensive fort during the Civil War (1 mile, easy terrain).
WABA Group Bike Ride
Washington Area Bicycling Association is sponsoring a group bike ride from Anacostia Park (19th and East Capitol St.) to the festivities. Bikes not provided, but we're starting at a Capital Bikeshare station for those that need to rent a bike. Sign up for the bike ride here.
Compete in a Citizen Nature Challenge
Biophilic D.C., part of the Biophilic Cities national program, is representing Washington D.C. in a national citizen science (collecting natural world information by the public) challenge. Come help find, take pictures of, and identify local wildlife in the forest nearby. Learn how to use the iNaturalist free app.
Come out and join us in your neighborhood national park, only a 5-minute walk from the Fort Totten Metro (red line)!

View our event flyer in English or view the flyer in Spanish.

If you're interested in volunteering at the event to set up or break down, please email kathryn_tyler@partner.nps.gov.
Únete a el Servicio de Parques Nacionales para diversión saludable al aire libre en el día nacional de prescripción de parques!
Comida y concesiones estarán a la venta cortesía de Guest Services, Inc. Invite a sus amigos y familia, incluyendo miembros peludos de familia (Siempre que estén con correa).
Estamos ofreciendo una variedad de actividades divertidas que conectan su parque con opciones de estilo de vida saludables y fáciles de tomar:
Aprende sobre el compostaje de la jardinería urbana para obtener frutas y verduras saludables: ¡los niños pueden plantar y llevarse a casa su propio brote de frijol!
Hable con un proveedor de atención médica sobre problemas de salud y obtiene una evaluación de salud gratuita.
Juegue fútbol, frisbee, fútbol y más con miembros de la comunidad guardaparques y voluntarios.
Aprende sobre los animales pequeños que viven en tu vecindario: revisa y protege las pieles de animales pequeños y los artefactos con Latino Outdoors.
Venga a ver el muro de escalada de D.C. Parks and Recreation y la unidad móvil de diversión.
Programas programados
Caminata histórica de Fort Totten: caminata histórica y educativa con guardaparques hasta Fort Totten, un fuerte defensivo histórico durante la Guerra Civil (1 milla, terreno fácil).
WABA paseo en Bici: La Asociación de ciclismo del área de Washington está patrocinando un paseo en bicicleta desde el Parque de Anacostia (19th y East capitol St.) y termina al evento en Fort Totten Circle. no se proporcionan bicicletas, pero estamos empezando en una estación de Capital Bikeshare para aquellos que necesitan alquilar una bicicleta. Registrate para el paseo en Bici aquí.
Compite en el desafío de naturaleza ciudadana: Biophilic D.C. está representando Washington D.C en el desafío de naturaleza ciudadana. Ven a ayudar a encontrar, tomar fotos e identificar la vida silvestre local en el bosque cercano. Aprende a usar la aplicación gratuita iNaturalist.
Last updated: June 26, 2018