Carter Barron Amphitheatre
Carter Barron Amphitheatre Closed for Repairs
As the result of a recent structural assessment, the National Park Service has determined that the Carter Barron Amphitheatre stage has structural deficiencies and cannot safely support the weight of performances. This means there will not be concerts or other performances at the Carter Barron this summer.

We know how much the community loves the Carter Barron, and we are working to get it back in action as soon as possible. We invite you to join us for concerts at Fort Dupont Park's Summer Theatre while we address this important safety issue.

We will continue to share information as we have it. Updates will be posted here on our website.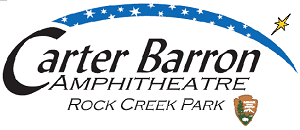 Carter Barron is accessible with assistance
Directions
The Carter Barron Amphitheatre is located at 4850 Colorado Avenue, NW, Washington, DC 20011, near the intersection 16th Street and Colorado Avenue.
For safety please review these simple rules.
Explore how Carter Barron Amphitheatre was created in Rock Creek Park and find out who some of the early performers were.
Contact Us
Add your email address to the Carter Barron Email list.
Email us or write to:

Carter Barron Amphitheatre
Rock Creek Park
3545 Williamsburg Lane, NW
Washington, DC 20008


Last updated: September 7, 2018