History, Culture, and Technology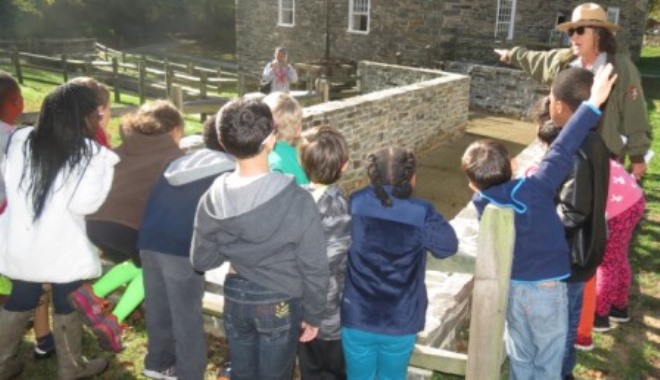 Peirce Mill programs
PreK-2 Cornucopia-From the Farm to Your Fingers: Corn comes to life in this interactive program about corn milling. Students will de-shell and grind corn by hand and learn how the mill worked.
Key concepts: food, natural resources; producing verses consuming; business; motion; simple machines.
1-4 Once upon a Time, Life at the Peirce Mill Plantation: Students will experience the mid 19th century as they compare and contrast life in rural Washington to the present. Older students will also read maps and track the area's urbanization and change.

Key concepts: life; food; physical surroundings; business; resources; rural verses urban; development; energy; simple machines; slavery.
3-4 Powered by Water and Gravity, the Workings of a Mill: Students will marvel at how all the machinery in Peirce Mill operated on water power and gravity as they take an in-depth look into this giant machine.

Key concepts: energy; simple machines; water resources; location and growth; technological changes.
5-6 Industrial Revolution Hits Home: In 1820, Peirce Mill was state of the art and its technology was an important part of the Industrial Revolution in America. Students will learn about the major changes that took place between 1780 and 1860 and their influences on today.

Key concepts: technological changes; industrialization; urbanization.
For reservations, call 9:00 a.m. to 5:00 p.m. Wednesday through Sunday at @ 202-895-6070.
For more information go to: http://www.nps.gov/pimi/forteachers/index.htm