In the Classroom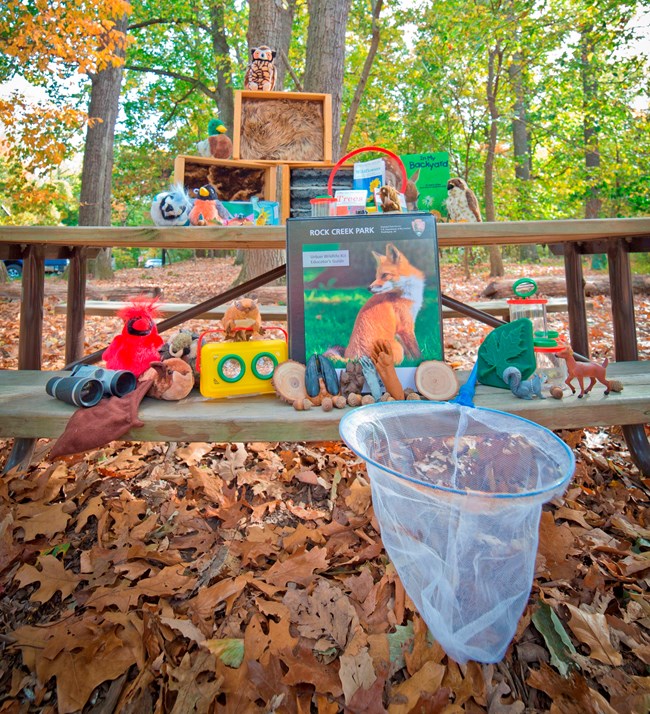 Bring the park to your classroom!
Want to enrich your classroom activities? Need to use some materials to bring your in-class lessons to life? Perhaps one of our traveling trunks with materials and suggested lesson plans can help.Would you like our staff to assist with classroom activities? Your national park, right here in the nation's capital, can help. Students can hear birdsongs in the classroom, feel animal skins and find out why animals are dressed the way they are, learn where animals live, or head outside and use some tools of discovery. Nature and history is all around, let us help you bring it to your students.
Need to make a reservation?
Programs and materials are free but must be reserved a minimum of two weeks in advance. Call us at 202-895-6070 Wednesday through Sunday, 9:00 a.m. to 5:00 p.m. to speak with us.
Urban Wildlife Kits
• The kits are designed for pre-K through third grade and are available for loan from the Nature Center. They are designed for hands-on lessons focusing on habitats and adaptations. The kits have more than 175 items, including a teachers guide, books, photographs, birds with song soound, fur boxes, magnifying glasses, binoculars, animal tracks for comparison, field guides for identification, and much more.
• The kits must be picked up and returned in person and can be kept for up to three weeks.
• Lesson plane include Exlplore Rock Creek Park, You Can Help the Earth, Changing Habitats, and Schoolyard Exoloration: My Backyard Habitat.
Ranger in the Classroom
• We have limited spots for a park ranger to come speak with your class or bring some materials to help them learn about Rock Creek Park.
• Classroom visits are in the afternoon and available Wednesday throiugh Friday on a first come, first served basis.
Need to pick-up a kit?
The Nature Center is at 5200 Glover Road, NW, Washington, D.C. 20015
• By school bus or van:
Take Military Road, NW, to Glover Road, NW. Turn onto Glover and stay to the left at the fork in the road. After the fork take a left into the Nature Center parking lot.
• By Metro
Take the train to the Fort Totten or Friendship Heights station. Board an E2, E3, or E$ bus to the intersection of Military and Glover roads, NW. A paved path leads to the Nature Center and Planetarium.
Need to contact us?
Running late?
Need to change or cancel your reservation?
Call us at 202-895-6070 Wednesday through Sunday, 9:00 a.m. to 5:00 p.m.


Last updated: November 6, 2016