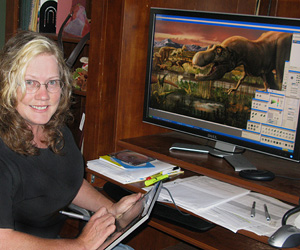 Researcher-in-Residence 2013
Karen Carr
Karen Carr Studio, Inc
Wildlife and natural history artist
One of the most compelling yet under-publicized research areas in Denali is paleontology. Dinosaur footprints were found in the park in 2005. Since that time scientists have conducted extensive investigations to understand the life histories of the animals that created them and the environments in which they lived. Visitors are hungry to know more about the subarctic dinosaurs that formerly roamed Denali and what the climate, vegetation and topography was like during that period. However, it is difficult to engage visitors in the science of paleontology through footprints and leaf fossils alone. What Denali lacks is accurate visual depictions of dinosaurs and ancient landscapes that can unlock new levels of understanding and amazement for visitors of all ages.
Karen Carr is an internationally-renowned artist who has created many scientifically-rigorous paleo-landscape murals for museums. During the spring of 2013 she will work with an Alaska paleo science team, including Denali's geologist and other Alaska paleontologists to compile and master the information necessary to create a mural depicting Denali in the Cretaceous Period. The mural will be designed for semi-permanent display in the Murie Science and Learning Center. During the summer of 2013 she will create the mural at her studio in New Mexico with continuous input from the science team. Throughout this process she will create PR materials and images for release to news outlets, school groups, tourism organizations, local print and electronic media, etc. She and the science team will also post to a blog and Skype with local youth and Denali visitors about the scientific process of deriving visual dinosaur and paleoenvironment images from fossils. Black-and-white layout images from the draft stages of the mural creation will be made available for youth education products such as junior ranger books. Karen's artwork is digital, so components of her mural can be easily integrated into educational outreach products including websites and web-based curricula.
Karen will visit Denali in August 2013 for a public presentation on the scientific-artistic process of creating the mural and for its public unveiling. Most of her residency will have taken place prior to her visit via videoconference with the science team, local youth and Denali visitors. Karen will spend a week in the park visiting the dinosaur dance floor, interacting with researchers and the public, and gaining momentum for future collaborations with Alaska paleontologists and science educators.
Karen has been a history and wildlife illustrator for more than fifteen years, serving museums and scientific institutions in North America, Europe and Asia. Her images are in use by the Audubon Society, National Museum in London, the Smithsonian Institution, The Field Museum, the Royal Tyrrell Museum of Paleontology, the National Museum of the US Marine Corps, and many others. For examples of her work and more information visit
http://www.karencarr.com/
.