Earthcaching in Denali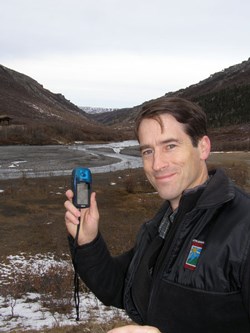 Learn about some of the amazing landscapes of Denali National Park and Preserve be seeking one of our 'EarthCache' sites in the park.
What is "EarthCaching"?
EarthCaching, or geocaching, is a treasure hunt with a GPS device (Global Positioning System). Using your device you seek a specific location. At the traditional 'geocaches' there are often hidden containers that have a logbook and sometimes collectables. Hidden containers are not allowed in our National Parks, therefore in Denali we have 'virtual' geocaches that instead have a specific geological 'puzzle or question' for you to solve. These are called 'Earthcaches'.
EarthCaching is a hunt for natural and geological treasures, and is a program created by the Geological Society of America. This family-friendly activity is appropriate and fun for all ages! The self-guided pace and educational component allows visitors to discover and appreciate the beauty and natural history of their national parks.
To get started and learn all about geocaching and earthcaching, visit www.geocaching.com to get started. You can also go directly to the 'Denali Geo-Venture' links listed below.
Virtual Caches Only in National Parks
Please note that placing traditional, physical, geocaches is not permitted in any U.S. National Park, including Denali National Park and Preserve. The
EarthCache program
, part of the Geological Society of America, specifies that you must have prior approval from a land manager to develop new EarthCaches on public lands. To inquire about developing an EarthCache within the park, please
email Denali
.
The Earthcaches in Denali
| | | |
| --- | --- | --- |
| General Vicinity | Difficulty | EarthCache link |
| Via the Murie Science and Learning Center or Horseshoe Lake Trailhead | Hiking required (<.5 miles round trip) | The Oldest Rock! |
| Via the Denali Visitor Center or Murie Science and Learning Center | Hiking required (<1.5 miles round trip) | Landscape Puzzles |
| Via the Denali Visitor Center | Hiking required (<1 mile round trip) | The Borderline |
| From the Denali Park Headquarters area (via a free shuttle bus or with your own vehicle) | Roadside cache | The Erratic Nature of Glaciers |
| From the Savage River Area (via a free shuttle bus or with your own vehicle) | Roadside cache | Glacial Rivers and Wildlife Thorofares |
| Via the Horseshoe Lake Trailhead | Hiking required (<.5 miles round trip) | A Geologic Story |
Last updated: July 21, 2017