Student Internship Opportunities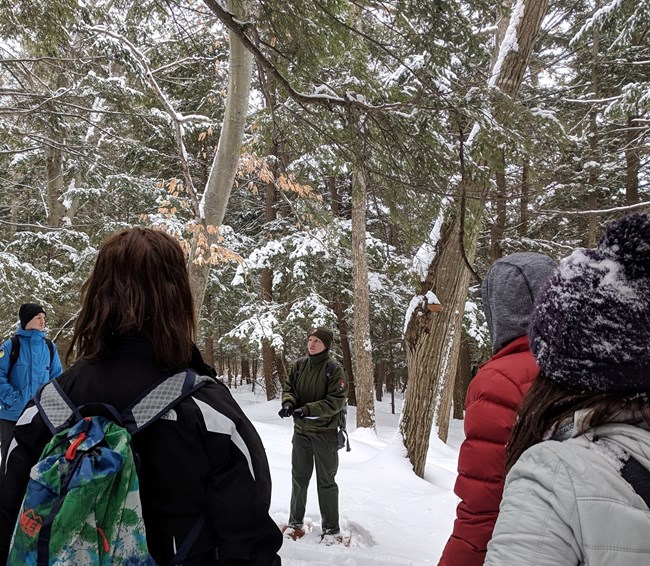 2020 Student Internships
Forest Health Winter/Spring Internship
at Sleeping Bear Dunes National Lakeshore
Do you like hiking through the woods and playing in the snow? Sleeping Bear Dunes National Lakeshore is looking for winter/spring interns to come and help work with Natural Resources Division's

Hemlock Woolly Adelgid

early detection surveys. Work responsibilities include working with the forest health program lead and plant biologist to survey forests and eastern hemlock trees for invasive hemlock woolly adelgid (HWA). Surveys will be conducted across the entire park in sometimes remote, wilderness areas. Activities may also involve data entry, creating maps, working with the public, leading citizen science snowshoe hikes, conducting other early detection surveys, and invasive plant management.
The internship time period is early February through June with some flexibility in start and end dates. Interns must be willing to commit to at least a 4 month program. Interns will typically work Monday- Friday 8:00- 4:30.
Field work will involve traversing uneven and snow-covered terrain in a wide range of temperatures and conditions, and may require strenuous hikes, wearing snow shoes, and lifting equipment and materials of up to 40 pounds. Some travel and backcountry camping may be required. Intern applicants must be physically able and willing to perform these critical job tasks.
Interns receive a stipend of $20 per day, and option of shared government housing, plus a volunteer uniform. However, interns are required to provide transportation to work, their own winter jackets, snow/rain pants, and waterproof boots. Snowshoes will be available for interns to use during early detection surveys. Snowshoeing experience is not necessary; however the interns must be physically capable of snowshoeing up to several miles per day, five days a week. This position is open to current college students and recent graduates.
How to Apply:
To apply for an internship email or postal the following:
1) Cover letter why are you a good candidate?
2) Résumé include relevant jobs and/or life experience
3) References contact information for at least two
4) Letter of recommendation at least one
Transcripts will be requested after initial materials are received.
Email documents to julia_gehring@nps.gov or mail documents to:
Sleeping Bear Dunes National Lakeshore
ATTN: Plant Biologist
9922 Front Street
Empire, MI 49630
Documents received by December 20, 2019 will receive first consideration.
For more information, visit the Sleeping Bear Dunes National Lakeshore website at

https://www.nps.gov/slbe/getinvolved/internship-opportunities.htm or contact Julia Gehring, Plant Biologist, e-mail us

.
Meet a few of our recent "star" interns!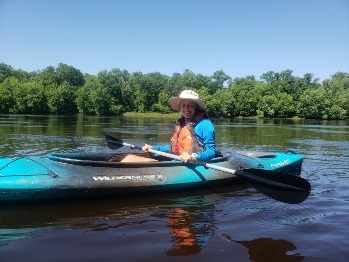 Olivia Poelmann, Katie Hands, and Jessica Bryzek
Aquatic Invasive Species Interns, 2018

Olivia Poelmann, Katie Hands, and Jessica Bryzek, spent the summer working along the Saint Croix National Scenic Riverway monitoring and removing the invasive yellow iris. The team housed themselves in Trego, Wisconsin, while they paddled eighty-five miles of the Namekagon in June. They used GPS tracking devices to monitor the spread of the plant as they paddled the river. In addition, they removed yellow iris along multiple stretches of the St. Croix River. Their work will help resource managers understand how the invasive iris spreads, and will inform decisions about the location of future work to remove the plant. This year, the interns also talked with people they encountered about the problem iris, and staffed booths at local events to help inform the public of the dangers of the invasive plant and the need to remove it. These industrious interns worked directly for the St. Croix River Association with support from the Great Lakes Research and Education Center.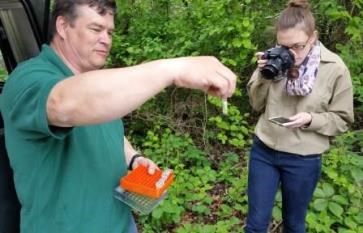 Colleen Otte, Science Communication Intern, 2017
Colleen created a Facebook page for the Great Lakes Research and Education Center, developing relationships with scientists and resource managers from across our network of 11 parks to gather information for her Facebook posts. She spent time behind the computer, on the phone, and most importantly in the field as she put her skills as both a photographer and a journalist to work. She also created two articles on bat monitoring and a number of social media posts for the Great Lakes Inventory and Monitoring Network, who, along with the Dunes Learning Center, helped sponsor her internship.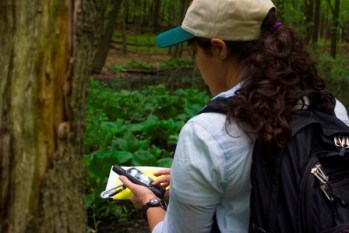 Némesis Ortiz, Young Leaders in Climate Change (YLCC) Intern, 2017
Némesis spent her summer both inside and out, researching methods, identifying data gaps, and collecting ancillary data needed to characterize vernal pools and assess their vulnerability to climate change. At Indiana Dunes National Park, she conducted field surveys in the upland dunes area of Cowles Bog to locate wetlands and determine their status as vernal pools. Némesis assessed the accuracy and precision of remote sensing techniques to detect vernal pools and developed a framework for assessing their resiliency to climate change.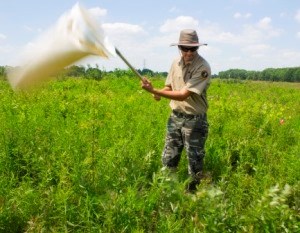 Jacob Villalpando, Mosaics in Science Diversity Intern, 2017
Jacob spent time in the field, in the lab, and in the classroom as a Mosaics Pollinator Steward intern at Indiana Dunes National Park. He gained valuable hands-on experience in both research and science outreach by collecting updated data on native bee diversity in the park and developing a citizen science project on native pollinators. Jacob even tried his hand at teaching, as he shared about his stewardship project during an entomology workshop for educators held in June.
Last updated: December 3, 2019