Student Internship Opportunities
The Great Lakes Research and Education Center offers several student internship opportunities in cooperation with our partners. Join the next generation of national park scientists and stewards!

Internships Currently Available: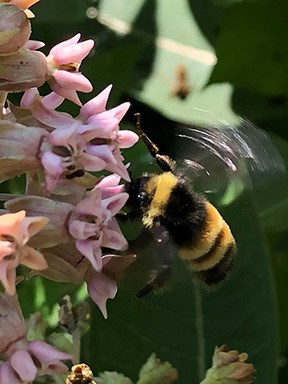 Summer Internship Opportunity at Indiana Dunes National Lakeshore
Biologist Assistant/Pollinator Intern

The Mosaics in Science Diversity Program is focused on persons that are under-represented in STEM fields. Students and recent graduates that are African American, Latino/Hispanic, Asian, Pacific Islander, and Native American are encouraged to apply for these internships. In order to be eligible, participants must be a U.S. citizen or U.S. permanent legal resident ("green-card-holder") and currently enrolled in an undergraduate, graduate, or PhD degree program at an accredited institution of higher education during the summer internship.

Goals of this internship project are twofold: develop pollinator education materials for Great Lakes park units and collect data on native pollinator diversity and abundance at Indiana Dunes National Lakeshore. The intern will work to collect data for a pollinator research project in the park and provide management recommendations. Additionally, the intern will develop programs and materials to educate the public about the ecosystem benefits provided by native bees, and how they can support native pollinators.

Applications will be accepted now through February 4th.
General information about the Mosaics in Science Program
Learn more and apply for this position.
Here's a quick look back at some of our star interns: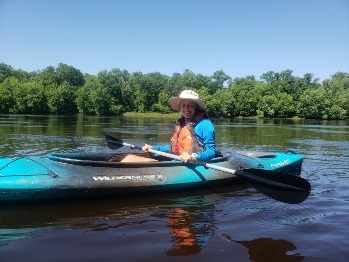 Olivia Poelmann, Katie Hands, and Jessica Bryzek
Aquatic Invasive Species Interns, 2018

Olivia Poelmann, Katie Hands, and Jessica Bryzek, spent the summer working along the Saint Croix National Scenic Riverway monitoring and removing the invasive yellow iris. The team housed themselves in Trego, Wisconsin, while they paddled eighty-five miles of the Namekagon in June. They used GPS tracking devices to monitor the spread of the plant as they paddled the river. In addition, they removed yellow iris along multiple stretches of the St. Croix River. Their work will help resource managers understand how the invasive iris spreads, and will inform decisions about the location of future work to remove the plant. This year, the interns also talked with people they encountered about the problem iris, and staffed booths at local events to help inform the public of the dangers of the invasive plant and the need to remove it. These industrious interns worked directly for the St. Croix River Association with support from the Great Lakes Research and Education Center.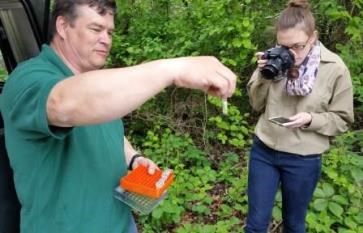 Colleen Otte, Science Communication Intern, 2017
Colleen created a Facebook page for the Great Lakes Research and Education Center, developing relationships with scientists and resource managers from across our network of 11 parks to gather information for her Facebook posts. She spent time behind the computer, on the phone, and most importantly in the field as she put her skills as both a photographer and a journalist to work. She also created two articles on bat monitoring and a number of social media posts for the Great Lakes Inventory and Monitoring Network, who, along with the Dunes Learning Center, helped sponsor her internship.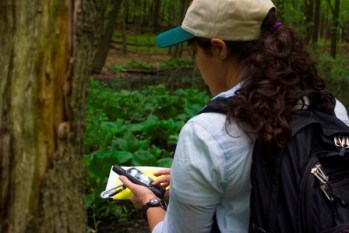 Némesis Ortiz, Young Leaders in Climate Change (YLCC) Intern, 2017
Némesis spent her summer both inside and out, researching methods, identifying data gaps, and collecting ancillary data needed to characterize vernal pools and assess their vulnerability to climate change. At Indiana Dunes National Lakeshore, she conducted field surveys in the upland dunes area of Cowles Bog to locate wetlands and determine their status as vernal pools. Némesis assessed the accuracy and precision of remote sensing techniques to detect vernal pools and developed a framework for assessing their resiliency to climate change.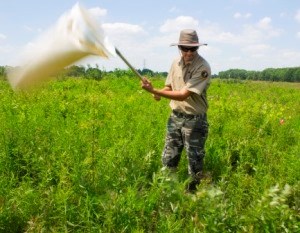 Jacob Villalpando, Mosaics in Science Diversity Intern, 2017
Jacob spent time in the field, in the lab, and in the classroom as a Mosaics Pollinator Steward intern at Indiana Dunes National Lakeshore. He gained valuable hands-on experience in both research and science outreach by collecting updated data on native bee diversity in the park and developing a citizen science project on native pollinators. Jacob even tried his hand at teaching, as he shared about his stewardship project during an entomology workshop for educators held in June.
Last updated: December 19, 2018